Wildcats steamroll Seahawks
Wildcats steamroll Seahawks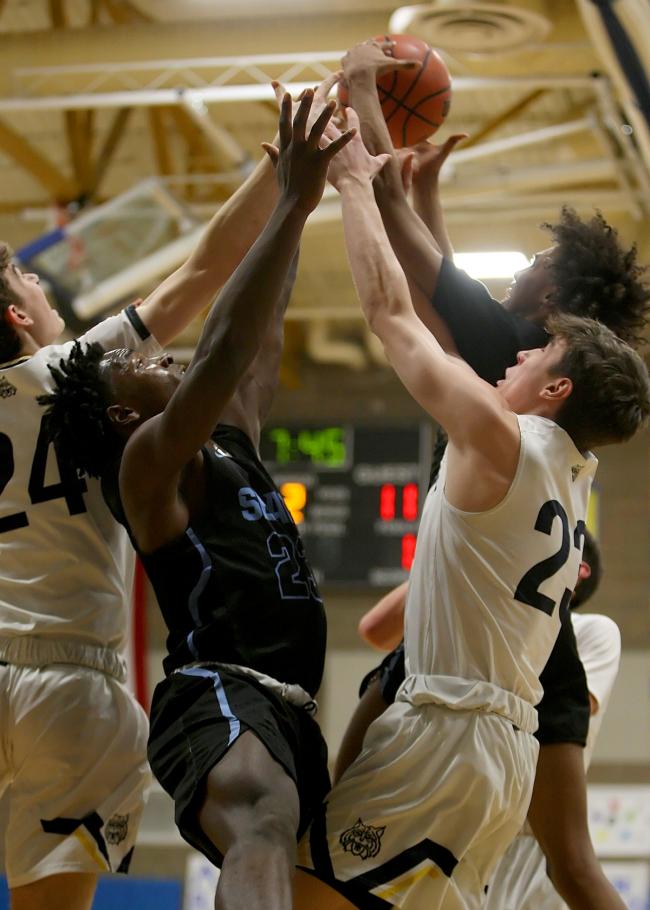 Kurt Howard photos
Mon, 02/10/2020
By Gerardo Bolong
CONTRIBUTING WRITER
The West Seattle 3A boys basketball team signaled its playoff readiness with a 67-48 demolition of crosstown Metro League rival Chief Sealth International High School on Fri., Feb. 7, in front of a pumped up home rooting section on Senior Night.
West Seattle (12-8) begins the Metro Championship Bracket seeding tournament to SeaKing District against O'Dea at 7 p.m., Mon., Feb. 10. The game will be held at Seattle Pacific University.
Chief Sealth (4-16) hosts Franklin in a loser-out game of the District qualifying tournament.
"In the second half we just got the ball inside and controlled the tempo," said West Seattle head coach Dan Kriley.
The visiting Seahawks were competing evenly and trailed only 29-25 at the half.
Six-foot. six-inch Vladimer Salaridze swished home a short-range turnaround jump shot to ignite the West Seattle third quarter charge. Chase Clifton followed with a lay up and the Wildcats were rolling.
The Battle in West Seattle became an exercise in domination as the Westsiders continually pressured the ball while draining shots.
Isaiah Watts scored on a tip in soon to be followed by a 12-8 WS run and a 46-27 lead heading into the fourth quarter. Salaridze entertained fans with two hand dunks as part of a powerful fourth quarter.
Try as they could, the Seahawks had no compelling answers against an almost irresistible force.
The Westsiders kept running to establish a 24-point lead at one juncture before the conclusion of the game.
Seniors Abdi Jama, Sage Nelson, Jacob Nadeau, Xavier Giomi, and Salaridze made their final home appearance for the Westsiders.
Salaridze paced a well-defined and well-executed WS offense with a 17 point fourth quarter on the way to a game high 28 points.
Watts added nine pints and Sage Nelson nine.
For the Seahawks, Raquib Hassan scored 14 and Cortez Graham 13.