Ballard High School looking to build off a successful season
Ballard High School looking to build off a successful season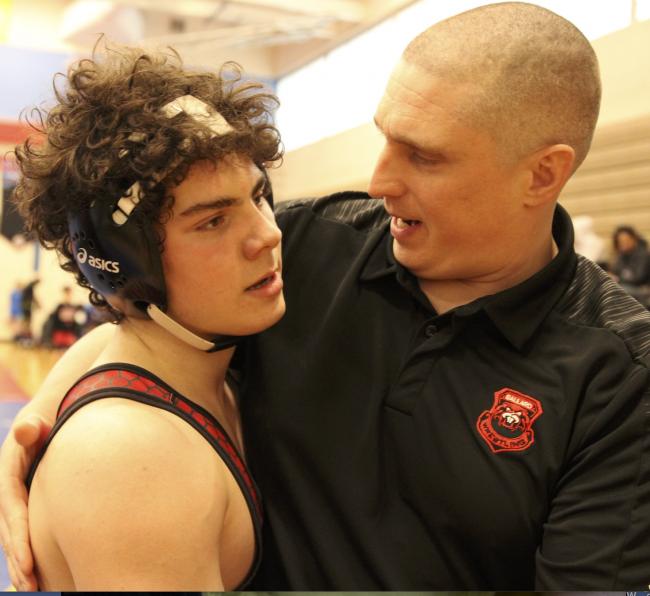 Janel Johnson
Mon, 02/24/2020
Special to the Ballard News-Tribune
Photos and story by Janel Johnson

The fifth year of Ballard High School's Head Wrestling Coach Jared Daniels did not disappoint. His vision and dedication has led the team to five consecutive trips to the Mat Classic Wrestling Championship tournament at the Tacoma Dome. 
 
This year the Beavers finished 4th at the District tournament with two first-place champions in two weight classes:  Eli Nicholson – 170 lbs, and Diego Salazar – 182 lbs. Second place went to Jacob Day – 152 lbs, and Hugo Swangstu – 138 lbs. Third Place went to Wyatt Tippett – 130 lbs, and fourth place Ian Bone - 106 lbs. Overall 12 wrestlers qualified for Regionals.
 
The team had extraordinary success at the Regional tournament with two second place champions: Eli Nicholson -170 pounds, and Hugo Swangstu – 138 pounds. Two third place champions: Brendan Day – 113 pounds, and Jacob Day – 152 pounds. Two fourth place champions: Diego Salazar – 182 pounds, and Roland Shoeneman – 285 pounds.  This triumph allowed Ballard to returned five state qualifiers from last year to State this year. 

Daniels focused his team around the journey and the process of wrestling, extracting the lifelong lessons of what success looks like with perseverance, self-awareness and leadership. The Ballard coach understands that success does not come easily or quickly. He is practiced at balancing the retention of new and upcoming wrestlers, and deepening the knowledge of more experienced wrestlers.
  
At the State tournament this past weekend, after the first round,  six Ballard wrestlers were in consolation rounds with the chance to fight for third place. State tested the wrestlers. After round 2 the Beavers 2019-2020 season ended.
  
Coach Daniels and his team are already planning to grow on the success achieved this year and have their sights set on next season. Increasing the numbers of both girl and boy wrestlers and continued off season weights and conditioning for the veteran wrestlers will be key. "Watching them succeed and being there for them in whatever way they need me to be, is the most rewarding part of coaching," said Daniels.