Ballard's Kistler Places 4th in All-around at State
Ballard's Kistler Places 4th in All-around at State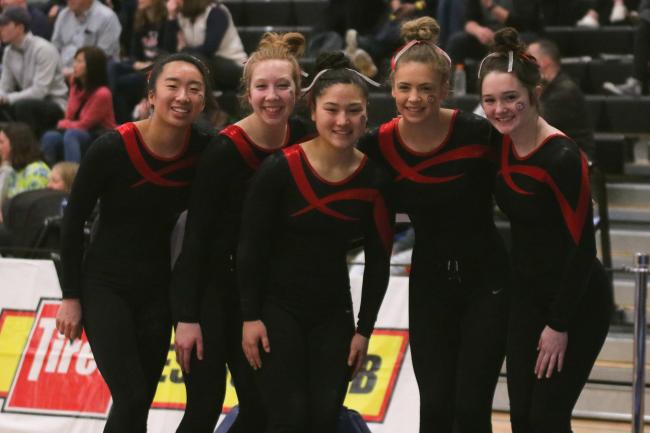 by Chelle
Mon, 02/24/2020
By Chelle
CONTRIBUTING WRITER
Last year, as a sophomore, Ballard's Lianne Kistler was top in uneven bars and vault, third on the floor, and took third all-around. The focus showed on the junior's face during warm-ups. Flanked by a strong core consisting of three teammates who have been together since the age of 8, Lianne was ready for all-around and hoped to place well in her favorite elements of vault and beam.  This year she took 4th in all-around, 5th on the floor, 6th on vault, and was part of a large tie for 16th on beam. 
Junior Frances Magnuson was one of three teammates to pick up additional events Thursday morning, as a fellow gymnast from Bainbridge was sidelined in a wheelchair with boots on both legs Wednesday night. "It is hard, because you feel sorry for her, but you also have to be tough and get through a routine you have not been perfecting the past week. It can really impact you mentally."  
Junior Cosette LaChance, placed 15th on beam and tied for 17th on the vault. 
The Ballard team loves competing on the beam, "There is something satisfying about sticking a move on the beam, especially after working on it for a long time," according to Senior Ava Alvord.  
Thursday, February 20, 2020, element scores:
Beam: Lianne Kistler 8.275/10; Eliza Volk 8.925/10; Ava Alvord 9.25/10; Cosette LaChance 9.475/10; Frances Magnuson 8.1/10
Bars: LaChance 8.9/10; Kistler 8.95/10
Floor: LaChance 9.35/10; Kistler 9.55/10; Magnuson 9.05/10; Alvord 9.075/10
Vault: LaChance 8.95/9.9; Magnuson 8.175/9.4; Kistler 9.675/10