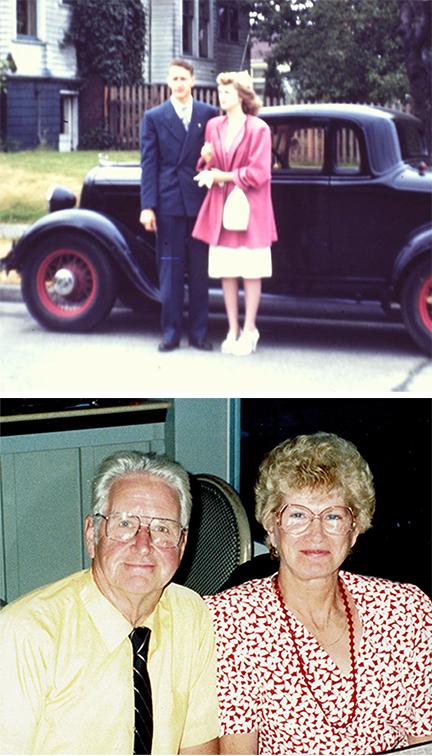 Richard Manlius Rogers was born October 30, 1924 in Toledo, Washington and died February 29, 2020.  Doris Louise Lake Rogers was born January 5, 1928 in Wenatchee, Washington and died August 23, 2018.
Dick and Doris met on a blind date, liked what they saw, and married August 25, 1946.  Together they raised 4 adoring children, Robert W., Bonnie L., Richard C., and James M.
They lived in West Seattle before settling in Burien in 1947 to start their business and raise their children.
Dick was a man of great generosity, with a wonderful sense of humor and quick wit.  He enjoyed many outdoor activities with friends and family that included hunting, fishing, hiking, and camping.  The Big Band music of the Swing era was his favorite, and he would dance to that sound at every chance.
Doris dearly loved to entertain in her home.  Many a night included different styles of dinner parties and games, with Bunko her favorite. A home crowded with family and friends was her comfort.
They owned/operated the Playfield Automotive Service in Burien before relocating to Seahurst Chevron Service Station.  Retiring from the service station, Dick spent additional years as the chief mechanic at the Burien Fire Department.  Doris ram-rodded the bookkeeping end of their business, as well as working for other local business', and lastly as Secretary for the local chapter of the VBOB (Veterans of the Battle of the Bulge).
Dick, a Corporal in "A" Battery, 215th Field Artillery Battalion 3rd US Army participated in the Battle of the Bulge, December 16, 1944 - January 25, 1945. After the war, he studied at the Edison Technical School in Seattle.
Dick will receive a Military burial ceremony and he and Doris will be interred together at the Tahoma National Cemetery in Kent, WA at 11AM on April 24, 2020.  After the service, a get-together is planned at Stockton's Restaurant in Maple Valley.  A light no-cost lunch will be provided.