Congratulations to the Curcio's on their 71st Anniversary
Congratulations to the Curcio's on their 71st Anniversary
Des Moines couple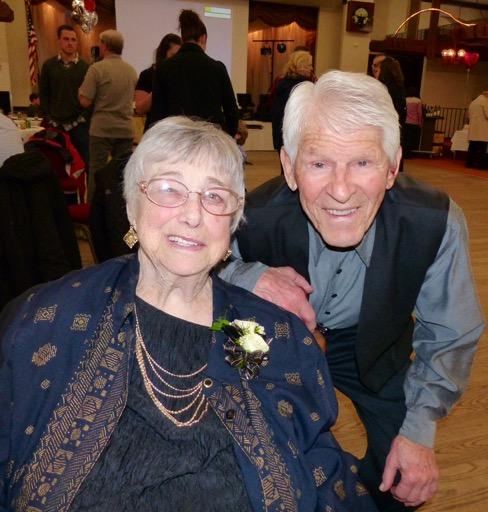 Courtesy photo
Tue, 03/24/2020
Congratulations to Des Moines residents Evelyn (Somers) and Fredrick Curcio on their 71st anniversary.
They married 1-3-1949.  They moved to Des Moines in May 1956.
Their family includes two children Cheryl (Michael) Peters of Walla Walla and Jay (Geri) Curcio of Monroe, five grandchildren, and 11 great-grandchildren.
Evelyn Somers graduated from Highline High School.  Fred was born and raised in Philadelphia.  As a member of the greatest generation, Fred proudly served his country in the navy in the South Pacific during WWII. 
They are members of the Des Moines St. Philomena Catholic Church.  For over 30 years, Fred has sponsored the local Crop Hunger Walk for his church.  Fred is a member of Knights of Columbus and Elks.
They were in a monthly pinochle cards club.  Sports were also a part of their recreation.  Fred and Evelyn participated in alpine snow skiing, bowling, and tennis. Since they could not afford a tennis club membership, along with two others, they purchased land and created the Evergreen Tennis and Country Club.  Fred was the Youth Director.  This land is currently the Third Runway for the Port of Seattle's Airport.
Fred and Evelyn traveled to Hawaii, Bahamas, Atlantic Ocean, Mexico, and viewed the East Coast Autumn colors and the California redwoods.  They enjoyed several cruises.  Fred also traveled to Italy and connected with relatives and his parents' birth place.
During the 1960-70's, Fred organized American Legion dances for local teens.  He volunteered at the YMCA, leading two teenage men's groups from 1962-1970 until their high school graduations.
Evelyn retired from Boeing, where she worked on the Bomarc Project.  During retirement she volunteered at the Blood Bank and St. Philomena Catholic Church.
Fred serviced his community as a Farmer's insurance agent and as a Commissioner for Water District #75.  Fred retired as a local postman. In retirement he volunteered for Des Moines Food Bank and Burien Hospital.