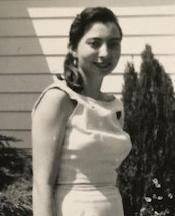 Dorothy ("Dot") Virginia Alkire,90 died in her home on March 29,2020. She moved to Seattle in 1970, buying a big house above Alki.  Dorothy loved living there.  She called it "our beach" – we were the "Alkire's of Alki."
Dot is survived by her five children: Joe Jr., Shari, David, Tom and Michael, all residing in Washington state; and her beloved sister Zelda Vice of Payson, Utah.
She is also survived by her five grandchildren: Cordell and Portia Fischer, Michael and Justin Alkire and Luke Alkire and 2 great-grandchildren Dominic Ojo-Fischer and Mason Wyland-Fischer.
Dorothy loved to read and write; her interests included, Philosophy, reincarnation fairies and Ancient Aliens. She was very interested in spirituality and respecting all of God's creations.
She is now on her magnificent Journey to the other side and beyond that, if she has her way!!  Many called her "mums" because she was a mom to those who needed one. In loving memory- see you on the other side one day.