Great Escapes: Places to plan on visiting after the pandemic is over
Great Escapes: Places to plan on visiting after the pandemic is over
Newberry boasts volcanic wonders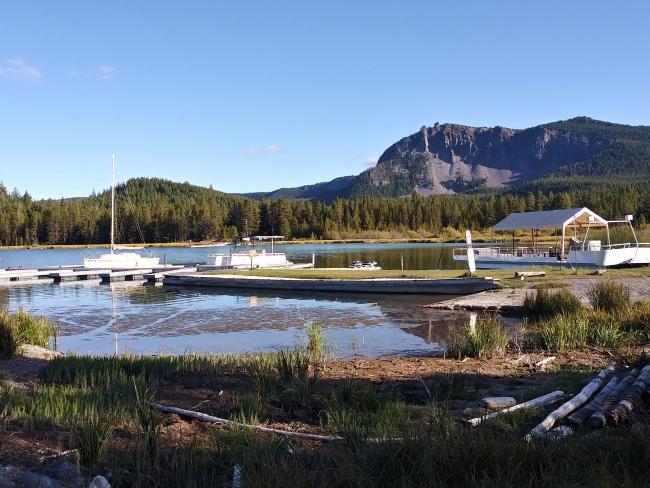 Tim Clinton
Tue, 04/07/2020
By Tim Clinton
SPORTS EDITOR
If you are looking for one big mountain with a steep walled crater, you won't find it at Oregon's Newberry Caldera.
But you will find a jagged hillside, several small craters including two with lakes in them, hot springs and solidified lava flows.
All of this points to the area's explosive and not too distant past.
In fact, aptly named Big Obsidian Flow only burst forth and covered one square mile of the caldera with molten black rock a mere 1,300 years ago.
Newberry Caldera is what is left of the largest volcano in the Cascade Range and is five miles across.
A caldera, according to the Oxford dictionary, is "formed by a major eruption leading to the collapse of the mouth of the volcano."
Nearby Crater Lake technically is inside of a caldera, as Mount Mazama emptied its contents and collapsed in on itself before filling up with water over the years.
Yellowstone is inside of another caldera.
Newberry Caldera is just the southernmost part of the Newberry National Volcanic Monument located south of the city of Bend and established in 1990.
Paulina Peak juts up and towers over the Newberry Caldera scene that includes the crystal waters of Paulina Lake and East Lake.
The peak stands at 7,984 feet above sea level while the surface of Paulina Lake is at 6,331 feet and the surface of East Lake a little higher at 6,371.
Paulina Lake boasts a large pier with boats docked up against it.
Both lakes offer fishing to those with licenses and are well stocked with rainbow, Kokanee, brown trout and chub.
Nestled next to East Lake are hot springs.
Below the low west end of Paulina Lake are the twin 80-foot chutes of Paulina Falls.
The caldera is laced with trails ranging from easy to difficult, including around Paulina Lake and to the falls, Little Crater between the lakes and Paulina Peak.
The 21-mile Crater Rim Trail encircles the whole area.
Or shouldn't that be Caldera Rim Trail?
How to get there:
Take Paulina Lake Road exit off of Highway 97 to the south of Bend and head east. A paved road winds 17 miles through the pine trees up to the Newberry Welcome Station, Paulina Visitor Center, Lake Paulina and Big Obsidian Flow before passing the hot springs and ending beside East Lake.
The cost of a Newberry National Volcanic Monument day pass is $5.00 per vehicle. A variety of annual passes are also accepted.
There are picnic areas, trails and boat launches for day use and camping is available.
The Paulina Visitor Center opens from late May through the end of September.