Peggy Sturdivant
Peggy Sturdivant
Sheltering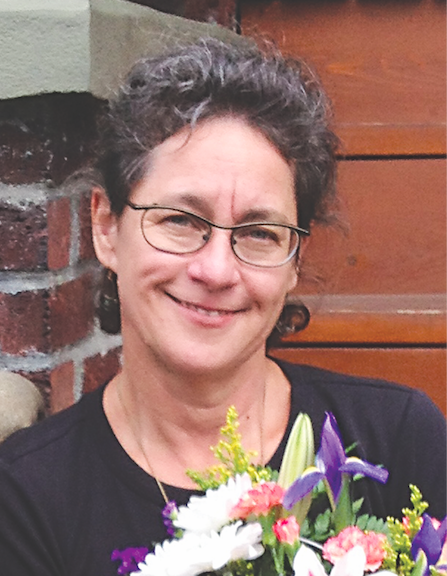 Wed, 05/06/2020
By Peggy Sturdivant
Before Governor Inslee's official "stay home, stay safe" message last month I saw old friends sitting in their car at Sunset Hill Park. I first met Bob and Jan Dalrymple through Cancer Lifeline. They were the architects who transformed one of the earliest PCCs into Cancer Lifeline's Dorothy O'Brien Center on Fremont Avenue. Bob Dalrymple is also a musician who put one of my writings to music and made me wish I'd become a songwriter.
The sun was out. Probably too many people were at the park (but nothing compared to sunset later). Jan Dalrymple said from within her car. "I wasn't supposed to be alive for this…" Meaning COVID-19 and the declaration of a pandemic. "Four years ago I had a brain tumor and I'm not supposed to still be alive." 
Her husband Bob stood on the driver's side listening. After 12 years facilitating at Cancer Lifeline I've learned there is no immunity to cancer. The Board President, one of its major Advisory Committee members, the program director, the social worker, and yes the architects and longtime supporters have all had their cancer journeys. Even as Jan Dalrymple had a recurrence of brain tumor, her husband Bob was diagnosed with lymphoma. Yet we were all at the park, keeping our distance, enjoying the last days of winter in a false and already eerie spring. 
"I guess someone had other plans for me," Jan said. I started thinking of friends and students who aren't alive to live through the pandemic. Since I've also been working with residents at Horizon House Retirement Community for a decade I know too many. 
Even before Department of Transportation closed the West Seattle Bridge I had been thinking of my old friend Doris Waggoner. She was from West Seattle and grew up on the same street as the Carnegie West Seattle Library. Doris died last fall but strangely I haven't had time to mourn her properly; my own life derailed around the same time. 
At the time I met Doris Waggoner she was still one of the youngest residents at Horizon House, and as far as I know the only one whose mother also lived there. She'd moved into Horizon House in 2005; twenty-two years after her parents had been among the earliest residents. Doris loved genealogy and puzzles, jewelry making and Scrabble, her cat Muffy and reading. She was an ordained minister and a retired hospice chaplain. She had numerous health problems but she never dwelt on them. Instead she researched and wrote, producing more consistently than any other student. She remembered her trips to the library as a child and when the viaduct opened. She wrote of a missionary great-great-grandfather on one side, and a relative who had been part of a lynching on the other. 
In 1962 Doris graduated from Chief Sealth High School and started college at Oregon State, but in-between was the World's Fair. She wrote of the Science Pavilion and the static electricity machine that made one's hair stand on end. She went with her family for the opening of the Alaskan Way Viaduct. Yet for all of her writing, bringing to life her ancestors, it was her own stories of growing up in West Seattle that stuck with me the most. I could almost see the steps up to the beautiful library through her precocious eyes. 
I have made, and lost, many friends over the last ten years at Horizon House. But reading their stories and helping on memoirs I have experienced a childhood in Bakersfield, California, another in Spokane, learned to fly an airplane - and leave a marriage, been married to one's first love over 70 years later and landed by water in France during World War II with a typewriter at "my "feet. 
Horizon House shut it doors to visitors on March 2, 2020; always proactive. There have been weeks when the residents couldn't even leave the grounds; meals delivered to their doors. They can currently go out for essential errands. I miss all those I can't be with in person now, and all those no longer alive, but I know that this pandemic would not have fazed them greatly. They had almost all lived through World War II and many a quarantine in their large senior living facility. 
When I saw Bob and Jan Dalrymple, friends from the other side of the Ship Canal, basking in the Ballard sunshine, I was warmed. I felt grateful for all who are unexpectedly alive in this time, and kept company by those who shared their life stories. On Doris' 70th birthday I loaded my car with ladies and drove us the two blocks to the Sorrento Hotel Courtyard for an August lunch. The valet watched five of us unfold and pronounced it a clown car. It was a lovely lunch thanks to Mary Mueller's presence of mind. So normal. And yet Mia, Vivian and Doris are all gone now, leaving me with their memories. I'm so glad we had that day; that birthday. 
Every day of this "new normal" I see things I've never noticed before. Today it was a dead end street in full cherry blossom bloom. Last week it was a hummingbird sitting atop a bare-limbed tree. When it turned its head it appeared its head was electrified, lit red as though by laser. 
Life outside of the frontlines is slower, quieter, more enchanting, unexpected. It is so good to be alive to see it, and the Dalrymples. 
Doris Rae Waggoner
August 27, 1944- November 20, 2019
cancerlifeline.org