Great Escapes:  Places to plan on visiting when the pandemic is over.
Great Escapes:  Places to plan on visiting when the pandemic is over.
Steamboat Rock towers above scene in Grand Coulee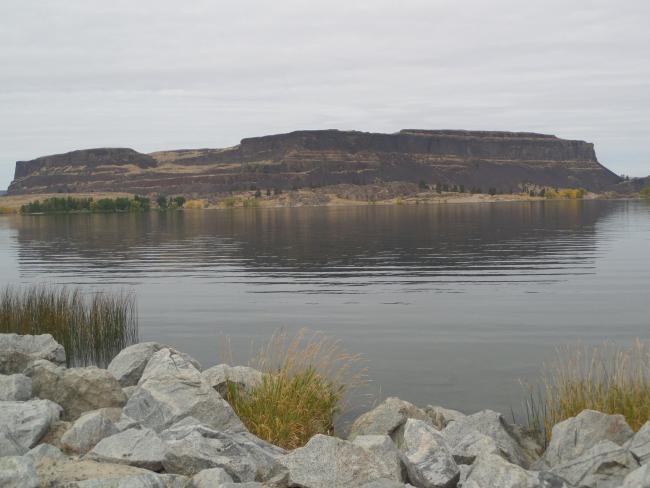 Tim Clinton
Tue, 06/09/2020
By Tim Clinton
SPORTS EDITOR
Steamboat Rock sticks out like a sore thumb.
It towers above the landscape in the Grand Coulee and Banks Lake scene, and can be seen for miles.
So much so that it has been used as a point of reference by travelers since the days when nomadic tribes roamed the area in Central Washington.
Arriving settlers heading west used it the same way, and most recently it has been used by pilots on training flights.
It looms 800 feet above the waters of Banks Lake, which has filled the area since the Grand Coulee Dam was built and the waters of the Columbia River channeled in.
During the last ice age it was an island in the stream as glacial flood waters sped south down the coulee on their way to Dry Falls and beyond.
And it even looks like a steamboat, with the basalt monolith boasting layers that look like decks of a ship on the Mississippi River.
It is the centerpiece of  3,522-acre Steamboat Rock State Park, which occupies desert flat lands that reach out to the rock and stand at an elevation of 1,975 feet above sea level.
The now open park has 136 full hook ups, 26 standard sites, 92 primitive tent sites, a beach, a boat launch and a day use area.
It features 11.5 miles of hiking, bicycle and mountain biking trails which range from moderate to difficult and a 1.5 mile ADA trail.  There are 10 miles of horse trails at nearby Northrup Canyon.
Banks Lake, which all but surrounds the rock, boasts a wide variety of fish for licensed anglers to pursue, including walleye, rainbow trout, smallmouth bass, Kokanee, perch, crappie, bluegill and catfish.
The area is also known for its bird watching.
Steamboat Rock lies on the northeast end of the lake off Highway 155 between the Grand Coulee Dam to the north and Coulee City near Dry Falls to the south.  Highway 2 will take you to Coulee City, where you turn north.
The park phone number is (509) 633-1304, and the address to find it at is 51052-115, Electric City, WA 99123.
The rock is 11 miles south of Electric City.
You can't miss it.
Comments
Tim ….thanks for covering a very unique spot in our state
Add new comment