Burien Resident - Ethan Janson is World Champion in Outdoor Racquetball
Burien Resident - Ethan Janson is World Champion in Outdoor Racquetball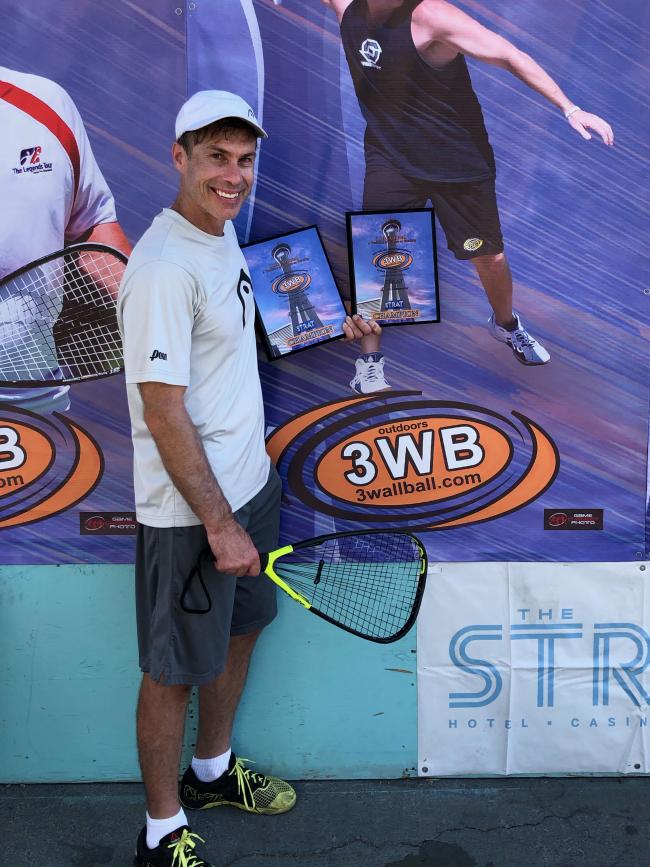 Sun, 10/25/2020
By Chuck Mingori
CONTRIBUTING WRITER
Three Tree Point resident and racquetballer Ethan Janson is on cloud nine these days after capturing first place at the 2020 3 Wall Ball World Championships in Las Vegas.
Janson took first in the Classic Professional Racquetball Tour 40 and over division.   "It's pretty special," said Janson, who was competing in his first professional outdoor racquetball tournament. "It far exceeded my expectations."
The 49- year-old Janson also happens to be a dentist in downtown Seattle, and originally was a squash player. The Washington native took up racquetball six years ago at LA Fitness in Burien.  He called the move a "natural transition."
Then a few years back he started playing outdoor racquetball.  The 3-wall outdoor courts are open on one end and require more running, said the former marathon runner.  It's considered the "granddaddy of endurance".  He trained for Las Vegas while playing outdoor racquetball at Ridgecrest Park in Shoreline and West Fenwick Park in Kent, two of the only parks with outdoor courts in Western Washington
With Washington state health clubs and gyms closing earlier this year during the pandemic, many racquetball players went outdoors to play.  And Janson, who is a sponsored player who competes for Team Head, welcomed the addition of more outdoor players. "It allowed me to prepare even more," he said.
Janson had to survive five singles matches in the Las Vegas heat and also teamed up for a title with Jeff Elden from Washington while playing in the men's Centurion AB Doubles, which is for team members whose total age is 100 or over.
                The 3 Ball Wall World Championships, which attracted 400 racquetball players, was held on a temporary site in the parking lot of the Strat (formerly Stratosphere) Hotel. 
"They literally build it, then tear it down a week later after the tournament!" Janson said. 
Due to the coronavirus, the world championships did not allow any spectators and no food was provided.  Players used their hotel rooms as changing rooms or locker rooms.  Matches were played from 7 a.m. until midnight each day.
Janson credits much of his success to Fran Davis, a Hall of Fame racquetball coach who has worked with him since he started playing.  He thanked her for "getting me in this position."
Although he is not  a professional player competing for money,  Janson said he is happy enough to simply have a world title to his belt.
"I will take the win over the money any day," he said.