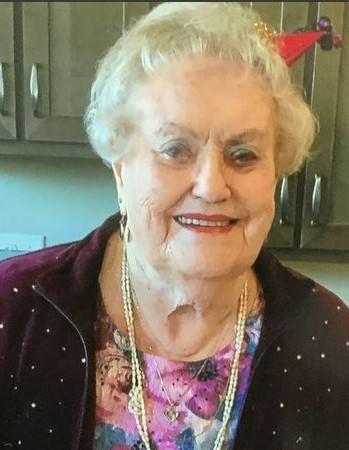 Viola (Vi) LeRoux Anderson died peacefully November 7, 2020 at Highline Hospital with her daughters Laurie and Pattie by her bedside. She was 93 years old.
Vi was born in Seattle on February 11, 1927, to Dolphus and Minnie LeRoux. Vi was raised in West Seattle and attended Holy Rosary School. In 1944 she married the love of her life Marvin (Andy) Anderson where they settled in West Seattle and raised their family. They were very active supporting their children's activities while participating in the Letter Carriers Band, West Seattle Dance Club, and bowling leagues. Vi worked at Sears and the Washington State Unemployment and Washington State Social Security offices. During retirement they lived on Whidbey Island and then ultimately settled at Lake Limerick. They spent winters in Yuma, AZ. They enjoyed golfing, boating, and gathering together with family and friends. She especially enjoyed her international travel and multiple ocean cruises.
Vi was preceded in death by her parents, husband of 65 years, sister, Corrine Nunn, son Ron, daughter Carrie Tiroux and infant son. Vi is survived by her daughters Laurie Leahy and Pattie (Dan) Boyle, nine grandchildren, twelve great grandchildren and one great-great grandchild, and numerous nieces and nephews. She lived a very full life and adored all her family and friends.
The family give a heartfelt "Thank – You" to the caregivers at El Dorado West where she resided the last five years and Palliative Care at Highline Hospital. We hope to celebrate her life in the summer of 2021.
Remembrances to Seattle Food Bank or the Cancer Society.
RIP Mom