Sportswatch
Sportswatch
Where area sports stars meet their future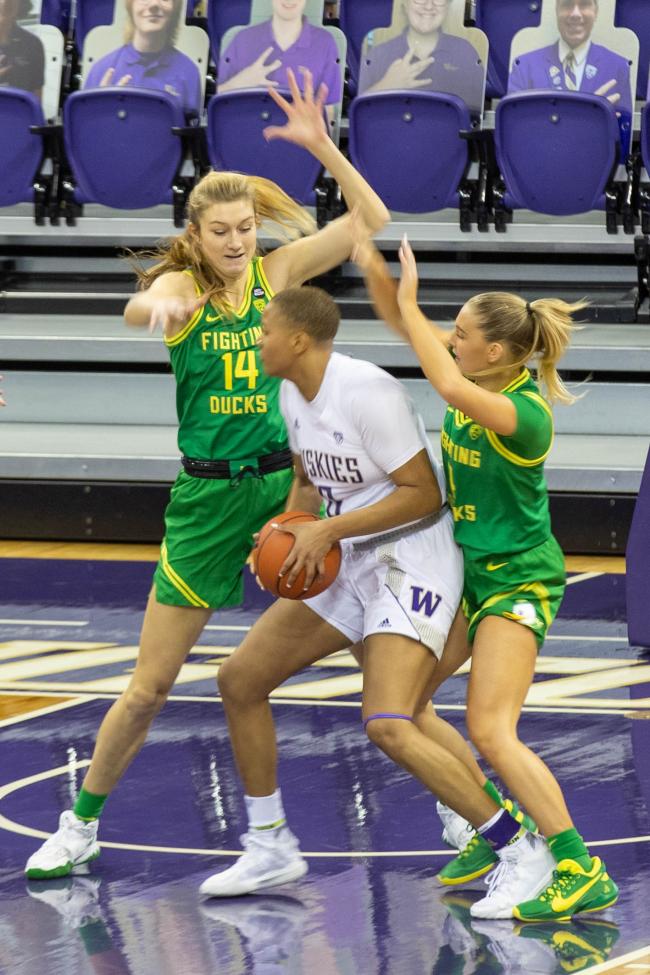 MEL
Mon, 12/21/2020
By Tim Clinton
SPORTS EDITOR
Giomi makes Washington trip
West Seattle graduate Lydia Giomi scored two points and hauled down two rebounds for the University of Oregon women's basketball team in its 73-49 win at the University of Washington this past Saturday.
It was the 6-foot, 6-inch senior's final career regular season appearance at the Alaska Airlines Arena, otherwise known as Hec Edmundson Pavilion.
The Ducks journeyed across the state to battle Washington State University in Pullman Monday morning and came away from the Palouse as 69-65 winners with Giomi on the bench.  They improved to 7-0.
Pryor nails new career high
West Seattle graduate Nate Pryor reached a new career high Sunday for the University of Washington men's basketball team, scoring 15 points in a 92-69 loss to Colorado in Las Vegas.
Pryor, a junior point guard, led the Huskies with five assists and three steals and also racked up one rebound.
He scored eight of his points, three of his assists, two of his steals and his rebound in the second half.
Pryor's second half effort was highlighted by a steal and layup with 13:44 to play.
It was his second start of the season, and he played a team high 35:51 out of 40 minutes.
Kelemete still starts for Houston
Evergreen graduate Senio Kelemete is still starting at left guard for the Houston Texans, including in a close 27-20 loss Sunday to the Indianapolis Colts.
Three Lancers officially sign
Three members of the Kennedy Catholic football team made official what they previously announced last Wednesday, inking letters of intent on early signing day.
Quarterback Sam Huard and Jabez Tinae signed on with the University of Washington and Junior Alexander with Arizona State University.
Please contact us at timc@robinsonnews.com if you have information for Keeping Track.