Sportswatch
Sportswatch
Sporting events worth keeping an eye on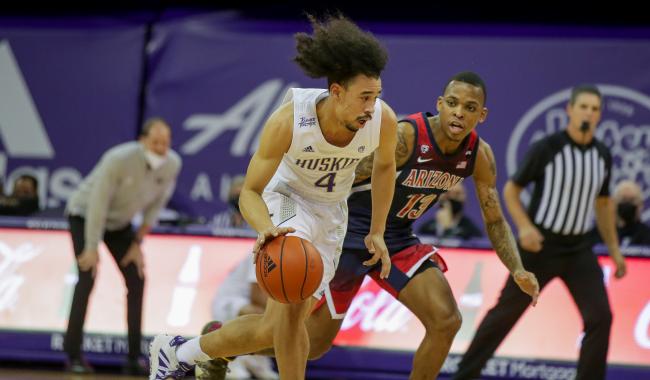 Scott Eklund/UW athletics
Mon, 01/04/2021
By Tim Clinton
SPORTS EDITOR
Pros
Seahawks
Seattle did its part to move up in the National Football Conference seedings Sunday, posting a 26-23 victory over San Francisco in Glendale, Ariz.
Trouble is Green Bay and New Orleans also won to nail down the top two spots and leave the Seahawks as the No. 3 team.
Seattle now plays the Los Angeles Rams at 1:40 p.m. Saturday in a loser-out playoff at home at Lumen Field.
Two team season receiving records fell Sunday.
DK Metcalf broke Steve Largent's record for receiving yards by reaching 1,303 and Tyler Lockett set a new standard with his 100th total reception.
Lockett had 12 catches Sunday for 90 yards and Metcalf three for 21.
Quarterback Russell Wilson completed 20 of 36 passes for 181 yards and ran five times for 29.  Chris Carson carried the ball 11 times for 44 yards.
Jordyn Brooks had five tackles and four assists for the Seahawks' stingy defense.
Colleges
Husky men
The University of Washington men's basketball team returns to action Thursday, visiting Stanford for a 6 p.m. game to be carried on Fox Sports 1 cable.
Saturday at noon the Huskies visit California in Berkeley on the Pac-12 cable network.
Husky women
Homestanding Colorado scored the last nine points of the game Friday in coming away as a 60-50 winner over Washington.
Freshman sensation Tameiya Sadler returned from an injury to score 14 points for the Huskies as Quay Miller hit 12 and Haley Van Dyke 11.
The UW was plagued by 22 turnovers and 4-for-27 shooting from 3-point range.  Colorado also dominated underneath the hoop on offense.
"We gave away far too many points in the paint, coupled with far too many turnovers on our offensive end," Washington head coach Jody Wynn said.
Washington went down to an 84-61 defeat at Utah on Sunday.
Van Dyke led with 16 points and eight rebounds as Darcy Rees delivered 11 points and Khayla Rooks 10.
The Huskies host Arizona at 8 p.m. Friday and Arizona State at 1 p.m. Sunday with both games on Pac-12 cable.
Cougar men
Washington State University visits California at 7 p.m. Thursday and Stanford at 6:30 p.m. Saturday.
Both games can be seen on the Pac-12 network.
The Cougars took their first loss of the year Saturday by an 86-82 score to Arizona.  WSU fell to 8-1 as the Wildcats improved to 9-1.
Isaac Bonton led the Cougars with 25 points as Noah Williams scored 16.  Andrej Jakimovski had 15 points and eight rebounds and Efe Abogidi 12 points and eight rebounds.
Dishon Jackson added seven points and six rebounds.
Cougar women
Washington State University was a 76-63 winner at Colorado on Sunday to run its record to 6-1.
Krystal Leger-Walker led the way with 23 points and Charlisse Leger-Walker hit 18.
Ula Motuga added 11 and Bella Murekatete nine.  Johanna Teder scored seven.
Motuga led with 15 rebounds and Chalisse Leger-Walker had 10 assists.
WSU won, 79-74, at Utah this past Friday.
Motuga and Murekatete sank 16 points apiece to pace the team and Krystal Leger-Walker added 12 points and led with eight assists.  Charlisse Leger-Walker came through with four steals to help WSU force 18 turnovers.
The Cougars entertain Arizona State at 4 p.m. Friday and Arizona at 11 a.m. Sunday with both on Pac-12 cable.
Redhawk men
Seattle University was an 84-68 winner at home over Portland last Wednesday.
Darrion Trammell swished in 25 points and had 13 assists as Riley Grigsby contributed 22 points and 10 rebounds and Jared Pearre 18 points, 10 rebounds and four blocks.
The Redhawks host Saint Martin's at 6 p.m. Saturday.
Redhawk women
Seattle University plays Saint Martin's in a 4 p.m. Friday home game.
Bulldog men
Gonzaga of Spokane entertains Santa Clara at 6 p.m. Thursday before visiting Portland at 5 p.m. Saturday.
The ROOT Sports cable television network will air both games live.
The No. 1-ranked Zags improved to 10-0 by sinking San Francisco Saturday, 83-62.
Corey Kispert came through with 26 points and Joel Ayayi (18 points, 10 rebounds) and Drew Timme (10 points, 11 rebounds) both had double-doubles.
Andrew Nembhard added 14 points and a team high four assists off the bench.  Anton Watson scored eight.
Bulldog women
An evening in Malibu, Calif. paid off in a 58-42 win over Pepperdine for Gonzaga last Wednesday.
Jill Townsend tallied 13 points and 11 rebounds for the Zags and Jenn Wirth added 12 points and 14 rebounds.
LeeAnne Wirth also tossed in 12 points.  Kaylynne Truong scored eight and had five assists.
The Wirth twins led the way in a 69-37 win over Saint Mary's back home in Spokane on Saturday.  Jenn Wirth led with 11 points and 14 rebounds and LeeAnne Wirth scored 10 points.
Cierra Walker, Melody Kempton and Townsend all contributed eight points.
Jenn Wirth tallied 26 points as Gonzaga improved to 9-2 with a 79-59 win over Pacific on Monday.
Kempton and Walker contributed 11 apiece as Townsend and Truong tossed in seven each.
The Lady Bulldogs host Portland at 2 p.m. Saturday.
High schools
WIAA meeting
The WIAA Executive Board will meet this Wednesday to review the current high school schedules and plan adjustments as necessary with the goal of providing opportunities for student participation in every sport and activity.
While the Executive Board will provide a uniform season schedule concluding in regional culminating events, it has granted each league or district the ability to schedule seasons that best fit their local communities.