Sportswatch
Sportswatch
Sporting events worth keeping and eye on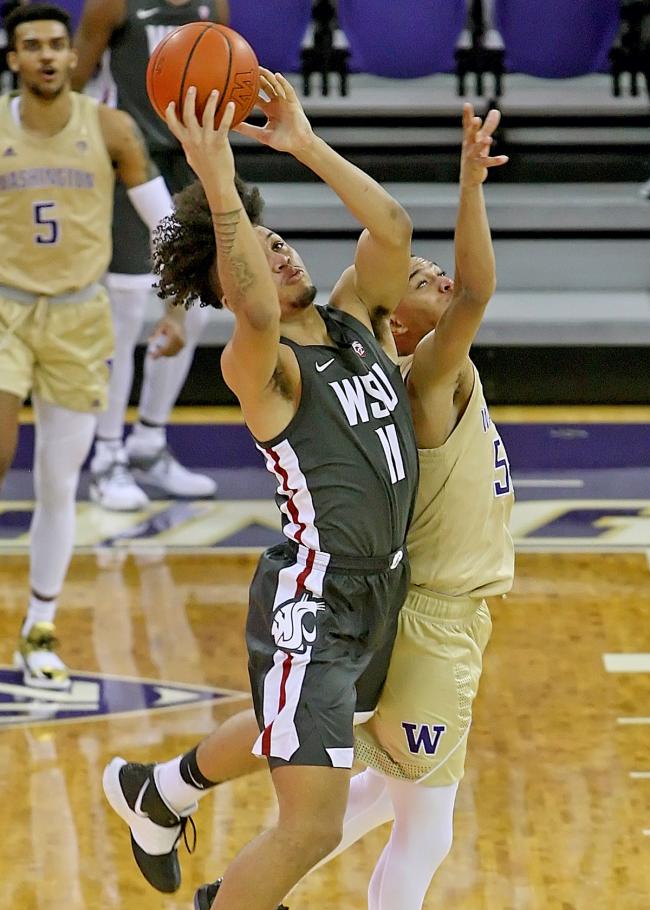 Kurt Howard
Tue, 02/02/2021
By Tim Clinton
SPORTS EDITOR
Colleges
Husky men
West Seattle graduate Nate Pryor and the University of Washington men's basketball team visit Oregon State at 6 p.m. Thursday on the Pac-12 cable television network and go to Oregon at 1 p.m. Saturday on Channel 7.
Husky women
Washington entertains USC for a 7 p.m. Friday game and UCLA visits at 2 p.m. Sunday.
Oregon State nailed 18 three-point shots in dealing the Huskies a 98-68 defeat last Tuesday.
Quay Miller led the UW with 20 points as Haley Van Dyke hit 15 and Tameiya Sadler 12.
Washington fell to Stanford by a 74-48 score Sunday.
Miller finished with a team high 14 points and Van Dyke scored nine with eight rebounds.  Darcy Rees and Nia Lowery also scored nine.
Cougar men
Washington State University pays an 8 p.m. visit to Oregon Thursday before dropping in on Oregon State at 3 p.m. Saturday.
Thursday's action can be seen on Fox Sports 1 and Saturday's on Pac-12 cable.
WSU snapped a six game losing streak with a 77-62 victory at Washington on Sunday.
Isaac Bonton buried 25 points to lead the way and Noah Williams tossed in 21.
Efe Abogidi threw in 13 points and 13 rebounds and Dishon Jackson scored 11.
Bonton also led in assists with four.
Quade Green paced the UW with 20 points and four assists.  Erik Stevenson hit 13 points and Jamal Bey nine with seven rebounds.
The Cougars took a 70-58 loss to Colorado last Wednesday.
Williams led them in scoring with 15 points as TJ Jamba hit 13, Jackson 12 and Ryan Rapp nine.
Cougar women
Washington State plays host to UCLA at noon Friday and USC at noon Sunday.
Stanford stopped the Cougars by a 71-49 score last Wednesday.
Johanna Teder was WSU's leading scorer with 12 points.  Ula Motuga tossed in 10 and Krystal Leger-Walker hit nine.
Motuga led with 10 rebounds for a double-double.
The Cougars lost to Stanford again Friday, this time by a 77-49 score.
Bella Murekatete led with 17 points and seven rebounds and Motuga added 10 points and six rebounds.
Redhawk men
Seattle University visits Dixie State for 6 p.m. games this coming Friday and Saturday after sitting out this past weekend because of Covid issues.
Redhawk women
Seattle University scored a 70-57 victory over host Chicago State on Friday.
Georgia Kehoe had 18 points, five rebounds and three blocks for the Redhawks and Bree Calhoun 14 points and nine assists.  McKenzi Williams tossed in 12 points.
The Redhawks host Northwest University at 3 p.m. Saturday.
Falcon men
Seattle Pacific pounded Lewis and Clark State last Wednesday, 82-65.
Harry Cavell poured in 30 points and racked up 11 rebounds for a double-double.
Divant'e Moffitt tossed in 20 points and Clayton Whitman added 12.
Moffitt tallied 32 points including eight in overtime as the Falcons pulled out an 82-79 win over the same team Thursday.
Cabell recorded another double-double with 18 points and 11 rebounds and Zack Paulsen scored 11 points.
SPU hosts Northwest University at 6 p.m. Wednesday.
Falcon women
Seattle Pacific visits St. Martin's for 6 p.m. games Thursday and Friday in Lacey.
Ashley Alter finished with 11 points for SPU in a 51-42 loss to the College of Idaho on Friday.
The Falcons gained revenge in a big way the next day, 71-47.
Abril Rexach Roure and Natalie Hoff finished with 15 points apiece as Alter added 12 and Rachel Berg 10.
Bulldog men
CBS Sports will broadcast the action as No. 1-ranked Gonzaga hosts Loyola Marymount at 6 p.m. Thursday.
Gonzaga grabbed a 90-62 over host San Diego on Thursday.
Drew Timme led with 21 points and Corey Kispert scored 19 and hauled down eight rebounds.
Jaylen Suggs scored 17 and Anton Watson 10 as Andrew Nembhard led with 10 assists.
The Zags went to Malibu on Saturday and cruised to a 97-75 victory over Pepperdine.
Timme tallied 19 points and Nembhard swished in 17 to go with eight assists.
Kispert contributed 16 points, Aaron Cook 15 and Watson 12.  Joel Ayayi scored 11 and led with seven rebounds.
Gonzaga improved to 17-0 with the wins in California.
Bulldog women
Jenn Wirth hit 15 points with seven rebounds and LeeAnne Wirth 14 with nine rebounds as the Zags swamped Pacific on Thursday, 77-65.
Kayleigh Truong contributed 10 points and eight assists and Jill Townsend scored nine.
Townsend led with 20 points in a 79-52 win over Saint Mary's on Saturday and Jenn Wirth had 14 points and 14 rebounds for a double-double.  Cierra Walker added 11 points and Truong led with eight assists.
San Francisco visits Gonzaga (15-2) at 5 p.m. Thursday, Feb. 11.
Husky volleyball
Washington emerged as a 25-21, 25-20, 29-27 winner over Arizona on Friday.
Lauren Sanders had nine kills, three blocks and two aces and Samantha Drechsel seven kills, five blocks and two aces.
The UW had a much tougher time against the Wildcats the next day but still won, 19-25, 25-17, 25-27, 25-21, 15-13.
Drechsel amassed 24 kills.
The Huskies host Oregon State at 6 p.m. Thursday and 3 p.m. Saturday.
Cougar volleyball
Magda Jehlarova racked up 11 kills as Washington State pulled out a 17-25, 26-24, 25-10, 23-25, 16-14 victory Thursday at Arizona State.
WSU also won Saturday's rematch, 22-25, 25-16, 25-16, 25-19.
Kalyah Williams had 12 kills and seven blocks.
The Cougars entertain UCLA for 6 p.m. Thursday and 11 a.m. Saturday matches.
Pros
Stars
Tacoma drops in on the Dallas Sidekicks for a 5:05 p.m. indoor soccer match Saturday.