Sportswatch
Sportswatch
Sporting events worth keeping an eye on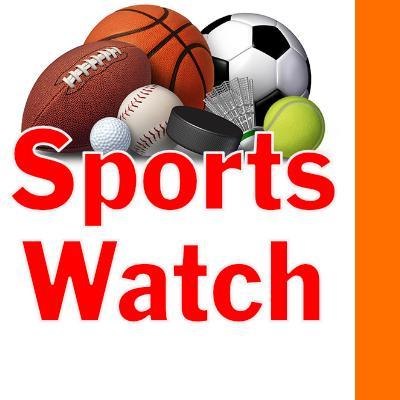 Tue, 02/16/2021
by Tim Clinton
Sports Editor
High schools
Fall sports
Practices for football are scheduled to open Monday in the Metro League and Kingco Conference, followed by all other fall sports Monday, March 1.
The North Puget Sound League opens football practices Monday, March 1 with other fall sports beginning Monday, March 8.
Contact respective schools for more information.
Pros
Stars
Tacoma's indoor soccer squad faces its next action Thursday with a noon visit to the Florida Tropics.
The Stars travel to Ontario, Calif. for a noon match the next day before paying a 9 a.m. Sunday visit to San Diego.
Mariners
Spring training is scheduled to open Wednesday with pitchers and catchers reporting to Peoria, Ariz.
.
Colleges
Husky men
Washington went down to a 69-54 defeat at the hands of USC Thursday.
Quade Green scored 16 for the Huskies and Jamal Bey tossed in 10.
The Dawgs then fell short of UCLA by a 64-61 score Saturday.
Marcus Tsohonis tallied 22 points off the bench and Green finished with 14.
The UW edged host Washington State by a 65-63 score Monday, led by the 27 points of Tsohonis.  Erik Stevenson tossed in 20 and led with seven rebounds and seven assists.
Washington entertains Stanford at 8 p.m. Thursday and California at 7 p.m. Saturday.
Thursday's action will be televised on Fox Sports 1 and Saturday's on ESPNU.
Husky women
Washington hosts Utah at 7 p.m. Friday and Colorado at 2 p.m. Sunday.
The Huskies were 50-35 winners over Arizona State on Friday, led by the 10 points of Quay Miller and Tameiya Sadler.
Miller hit 13 and Hailey Van Dyke 12 in a 75-53 loss to Arizona Sunday.  Miller added nine rebounds.
Cougar men
Isaac Bonton led with 26 points as Washington State posted an 81-73 win over UCLA on Thursday.
Ajaz Kunc contributed 13 points and eight rebounds and DJ Rodman scored 11.  Ryan Rapp had eight rebounds and eight assists.
The Cougars cooled off Saturday, taking a 76-65 loss to USC.
Dishon Jackson swished in 18 points to pace the Cougars and Bonton scored 17.
Noah Williams and Kunc led with 14 points apiece in a 65-63 loss to Washington on Monday.
Jackson scored 11 and Efe Abogidi scored nine and had eight rebounds.
WSU hosts California at 7:30 p.m. Thursday on the Pac-12 network and Stanford at 1 p.m. Sunday on ESPNU.
Cougar women
Washington State University meets Colorado at high noon Friday in Pullman and Utah at the same time and place Sunday.
Charlisse Leger-Walker led with 19 points in a 60-51 loss at Arizona on Friday and Krystal Leger-Walker hit 11.
Charlisse Leger-Walker poured in 29 and Ula Motuga 15 in a 67-61 loss to Arizona State on Sunday.
Redhawk men
Seattle University travels to Rio Grande for a 4 p.m. game Friday and a 5 p.m. game Saturday.
Darrion Trammell tossed in 22 in an 83-72 loss to New Mexico State and Riley Grigsby led in a 65-58 loss to the same team with 17 as Trammell hit 16.
Redhawk women
Seattle University hosts Rio Grande at 3 p.m. Friday and Saturday.
Georgia Kehoe contributed 18 points and 10 rebounds in a 76-69 victory over New Mexico State Saturday.
Bree Calhoun also scored 18 as McKenzi Williams hit 16 and Hailey Vice-Neat 10.
Kehoe had nine points and eight rebounds in a 64-49 loss to the same team the night before.
Falcon men
Seattle Pacific visits Central Washington at 6 p.m. Friday before coming home to Royal Brougham Pavilion to battle the Wildcats again at 7 p.m. Saturday.
The Falcons fell to Saint Martin's, 80-66, Friday despite 27 points and five assists from Divant'e Moffitt.
Clayton Whitman added 14 off the bench as Harry Cavell contributed 11.  Zack Paulsen led with nine rebounds.
Falcon women
Seattle Pacific entertains Northwest Nazarene at 6 p.m. Friday and 2 p.m. Saturday.
The Falcons downed Northwest University by an 82-56 score Wednesday in their only action of last week.
Abril Roxach Roure led the way with 19 points and Natalie Hoff scored 14 with 11 rebounds for a double-double.
Ashley Alter added 13 points, Beth Pettingill 12 and Rachel Berg 10.
Bulldog men
Gonzaga University gets a 6 p.m. Thursday visit from Saint Mary's on ESPN before entertaining San Diego at 5 p.m. Saturday on ESPN2.
The Zags were 82-71 winners at Brigham Young on Monday, Feb. 8.
Jalen Suggs led with 24 points and Drew Timme delivered a double-double with 20 points and 13 rebounds.  Andrew Nembhard added 15 points and Corey Kispert 13.
No. 1-ranked Gonzaga improved to 20-0 with a 100-61 win over San Francisco this past Saturday and to 11-0 in West Coast Conference play.
Timme scored 28 points and hauled down 10 rebounds for another double-double.
Aaron Cook, Joel Ayayi and Kispert all contributed 12 points.
Bulldog women
Gonzaga drops in on Brigham Young at 5 p.m. Thursday before visiting San Diego at 2 p.m. Saturday.
The Zags defeated San Francisco by a 79-66 margin Thursday, led by the 19 points of Jill Townsend.
Jenn Wirth had 14 points and nine rebounds and Kayleigh Truong 11 points and five assists.
Gonzaga downed Santa Clara by a 67-50 score Saturday as Melody Kempton, Jenn Wirth and LeeAnne Wirth all scored 12 points and Townsend 10.
Husky men's soccer
Washington hosts Oregon State at 5 p.m. Saturday after having Sunday's match at Portland cancelled by snow.
Redhawk men's soccer
Habib Barry of Tyee, James Morris and Deniz Dogan all scored in a 3-0 win over Houston Baptist Saturday with Akili Kasim from West Seattle earning the shutout.
Seattle University hosts Portland at 3 p.m. Sunday at Championship Field.
Husky women's soccer
Washington hosts Seattle Pacific at 3 p.m. Saturday.
The Huskies opened with a 1-0 victory over Seattle University on Friday.
Husky volleyball
Washington swept UCLA aside Sunday by a 25-20, 25-21, 25-13 score after falling to the same Bruins team in five sets Friday, 25-20, 24-26, 25-22, 24-26, 15-11.
The Huskies go to Colorado for 3 p.m. Friday and 2 p.m. Sunday action.
Cougar volleyball
Washington State visits Stanford for matches at 2 p.m. Friday and 1 p.m. Sunday.
WSU was a 25-14, 25-16, 19-25, 25-22 winner over Colorado this past Thursday.
Julianna Dalton delivered 13 kills and Pia Timmer tallied 12. Magda Jehlarova had six blocks and Hannah Pukis came through with four.
The Cougars swept the Buffaloes in a Saturday rematch, 25-21, 25-18, 25-19.