Review: BAT Theatre's Vanya and Sonia and Masha and Spike
Review: BAT Theatre's Vanya and Sonia and Masha and Spike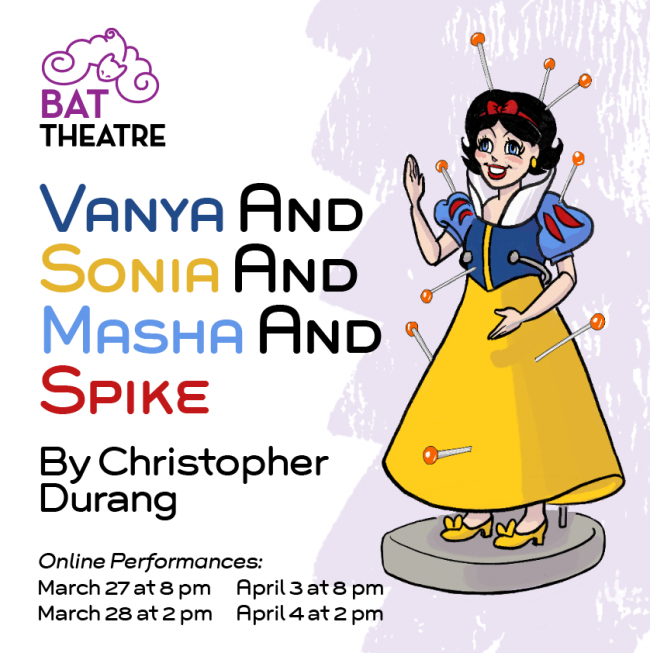 Thu, 04/01/2021
By John Van de Ven
Vanya and Sonia and Masha and Spike is a slice of life dramedy about a family who have drifted apart due to circumstance. While Vanya (played by Kevin Boze) and Sonia (played by Michelle Conklin) took it upon themselves to care after their aging parents, Masha (played by Carrie Schnelker) left home pursuing a career as an actress, whose success and fame has so far helped keep her siblings afloat after the death of their parents.
The show opens with a conversation over coffee between Vanya and Sonia. Their conversation sets the tone for the rest of the show as being a little absurd but entirely light hearted. During their chat Cassandra (played by Noelle Mestres), the eccentric house keeper, interrupts with mysterious visions of the future warning them to avoid 'Hootie Pie'. At some point, Sonia mentions remembering that their sister Masha is coming by for a visit that day which displeases Vanya.
A little later Masha arrives with a guest in tow, the young and attractive but dim witted Spike (played by Kassey Castro). While Masha mentions how much she's missed her brother and sister, Sonia worries that she and Vanya have wasted their lives, having spent it caring for their parents in their twilight. The siblings contentious relationship continues to unfold as they converse. Masha mentions a costume party that she's attending and insists that Vanya and Sonia accompany her.
Although Masha is completely enamored by Spike, it becomes clear that she doesn't keep him around because he's a good conversationalist. Masha insists that her brother and sister attend the party with her, and that she's already got costumes picked out for them by her assistant. Sonia refuses her costume, and instead decides that shes going into town to put together a costume of her own.
Spike returns, accompanied by Nina (played by Hannah Kathline) the attractive young relative of their neighbors that he met at the pond. Nina, hoping to meet the famous Masha, becomes enamored soon after meeting her idol. Although Masha is initially opposed to inviting Nina to the party, she changes her mind after Nina showers her with praise and admiration.
The story takes a turn after the party when Masha states that she will no longer support her brother and sister and that she's going to put the house up for sale. As she explains why, she cites the mysterious 'Hootie Pie' as the reason. Will this fractured family resolve their differences and come together?
Directed by duo Maggie Larrick and Rochelle Flynn, Vanya and Sonia and Masha and Spike is full of cleaver and witty dialog, punctuated by genuine laugh out loud moments. Written by Christopher Durang, this BAT Theatre production is full of heart, with characters that are real, flawed and lovable.
Vanya and Sonia and Masha and Spike kicks off BAT Theatre's third Shelter-in-Place season. There are two more opportunities to catch Vanya and Sonia and Masha and Spike on Apr. 3rd at 8 p.m. (PST), and Apr. 4th at 2 p.m. (PST). For more information on Vanya and Sonia and Masha and Spike and the donation link, please visit https://battheatre.org/shows/shelter-in-place-season-2021/shelter-in-place-season-3-2021/vanya-and-sonia-and-masha-and-spike-by-christopher-durang.
As a final note I'd like to add that a years worth of social distancing and self isolation can be very difficult things for all of us to endure. We are social beings, and as such require plenty of healthy interaction with one another. BAT Theatre productions don't just offer its audience a fully produced show, but also provides a community for like-minded fans of theater. Make sure you stick around after the show to have a chance at participating in a Q and A with the cast and production crew.
Because this is a different format than most will be familiar with, I will add a few tips to maximize your viewing pleasure:
    • Take advantage of waiting the half hour before the show starts to allow ample time to adjust your settings.
    • Make sure to mute your mic and turn off your webcam if you have one.
    • Make sure that the button in the upper right of your screen says "Speaker View"
    • Pour your favorite beverage, sit back and relax.
Although this third season of BAT Theatre's Shelter-in-Place is not the same as going to see an actual BAT show, it does offer a number of comforts to the alternative. Snacks and drinks are only limited to what you have at home, clothing is optional, as long as you avoid using your webcam, and you get social distancing approved live theater!
The rest of the 2021 schedule can be found here: https://battheatre.org/shows/shelter-in-place-season-2021/shelter-in-pl….
BAT Theatre has been performing shows in the Puget Sound area for over 40 years, and is a non-profit 501(c)(3) entity that relies heavily on ticket revenue, donations and volunteer help.