Sports Roundup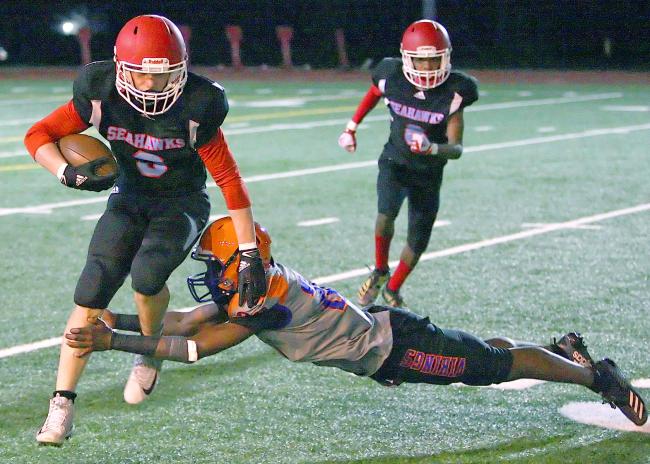 Mon, 04/05/2021
By Tim Clinton
SPORTS EDITOR
Football
Rainier Beach 35, Chief Sealth 0
It was a lights out performance by the Rainier Beach defense against Chief Sealth on Friday night.
The lights also went out on the game with 2:04 remaining on the fourth quarter clock and it was called at that point after an attempt was made to get them back on.
The Seahawks fell to 3-2 with the loss.
Foster 56, Interlake 7
Foster flattened host Interlake Saturday afternoon and improved its record to 2-1.
Eastside Catholic 28, Ballard 13
Ballard battled well against an Eastside Catholic team that is among the best in the state in a road game Thursday night.
Liberty 62, Evergreen 6
The Wolverines took another tough loss Friday.
Volleyball
Highline 3, Renton 0
The Pirates prevailed in three sets against Renton last Monday.
Foster 3, Evergreen 0
Foster felled Evergreen in last Monday's action.
Lindbergh 3, Tyee 0
The Totems were swept aside by the Eagles last Monday.
Lakeside 3, Ballard 0
The Beavers also lost in three sets last Monday.
Mt. Rainier 3, Decatur 0
The Rams rallied past the Gators in Tuesday action.
Kennedy Catholic 3, Kentridge 1
The Lancers won in four sets Tuesday.
Highline 3, Renton 0
Highline finished with a 7-1 record with Wednesday's win.
Foster 3, Evergreen 0
Foster defeated Evergreen again in a Wednesday rematch.
Lindbergh 3, Tyee 0
The Eagles soared past the Totems this past Wednesday.
Chief Sealth 3, Cleveland 0
Chief Sealth clobbered Cleveland in Wednesday action.
Nathan Hale 3, Ballard 1
Ballard went down to defeat in a four set match Wednesday.
Federal Way 3, Kennedy 2
Kennedy Catholic went five sets before falling to Federal Way last Thursday.
Girls soccer
Highline 3, Renton 1
Highline downed Renton in its first match after Covid problems last Monday.
Kennedy Catholic 3, Kentwood 0
The Lancers rose up to turn back the Conquerors on Tuesday.
Kentridge 4, Mt. Rainier 1
The Chargers trampled the Rams in a Tuesday clash.
Holy Names 4, West Seattle 0
West Seattle was shut out last Tuesday.
Highline 2, Renton 2
The Pirates played the Indians to a tie Wednesday.
Chief Sealth 6, Cleveland 0
Sealth shut down the Eagle offense Thursday.
Ballard 3, Nathan Hale 0
The Beavers triumphed in Thursday's match.
Tahoma 2, Mt. Rainier 0
The Bears were the winners in Thursday's action against the Rams.
Auburn Riverside 3, Kennedy 1
Kennedy Catholic took a loss last Thursday.
Lindbergh 7, Highline 1
The Pirates participated in their third match of the week Thursday with the third different result to stand at 1-1-1.