Building Lancers stymie Raiders
Building Lancers stymie Raiders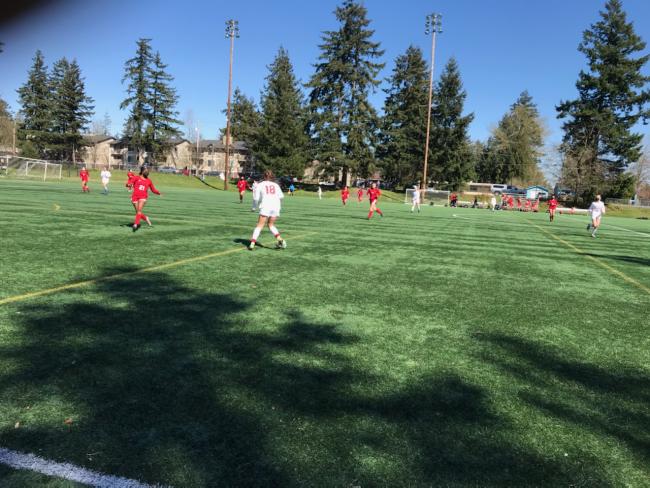 Gerardo Bolong
Thu, 04/22/2021

By Gerardo Bolong
CONTRIBUTING WRITER
FEDERAL WAY - The young Kennedy Catholic girls soccer resumed its year of learning by controlling field position 
in a 4-0 NPSL 4A win at Thomas Jefferson on Tuesday, April 13. 
The Lancer overall record improved to 6-3 with 6-2 in conference. Jefferson moved to 3-5 and 3-5, respectively.
"It's a young team," said Kennedy Catholic head coach John Theofilis. "Five sophomores and three freshmen start. As a young team on the learning curve? There are ebbs and flows. They play to the level of the competition.
"The majority are new to the varsity. Our seniors -- Sosna Araus, Zoe Kirkland, Cassidy Elicker, Delaney Haye -- stepped up. We're preparing for the new varsity of next year."
Under bright sunshine and blue sky, the Lancers took control early in the first
half with well conceived attack schemes.
Field position at Grosch Field in the Steel Lake Annex was the property of KC, which was initially unable to conclude attacks with scores.
In the 17th minute, Marilyn Kirkland blasted home a goal.
Continued corner kicks as well as regular pressure had Thalia Calderon scoring from 18 feet in minute 38.
Octavia Johnson opened the second half for TJ by streaking down the left side before a shot to the left of the keeper.
Delaney Hayes dove to her left for an outstanding save.
Johnson remained dangerous but was kept in check thereafter.
The match kept trending in Kennedy's way.
In the 60th minute, Kirkland scored
again off an assist by Calderon.
KC reserves saw plenty of action and Hayes assisted Madeline Storhoff for a final goal in the 78th minute.
"I'm excited about being able to play," said Lancer captain Hayes about her senior year. "I enjoyed the chance to be put on the field for the assist." 
Kennedy Catholic unloaded 13 shots  on goal to Jefferson's three.