Lancers, Rams enjoy tennis competition
Lancers, Rams enjoy tennis competition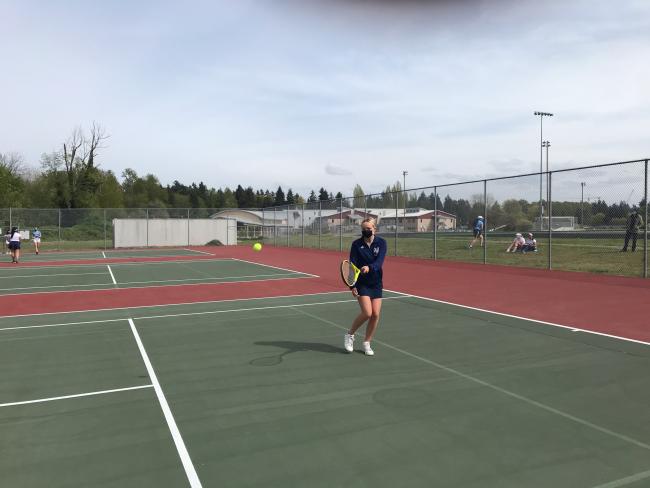 Gerardo Bolong
Mon, 04/26/2021
By Gerardo Bolong
CONTRIBUTING WRITER
Girls tennis teams from Kennedy Catholic and Mt. Rainier enjoyed competition in filtered sunshine before the Lancers emerged with a 3-2 NPSL 4A team win at the Ram home court on Fri., April 23.
With the match match wins deadlocked at 2-2, the KC No. 3 doubles team of Ava Droppleman and Heather Tran utilized strong communication to stroke past Clara Oliverson and Jessica Talamentes 6-4, 6-2.
Droppleman voiced the sentiments of the KC players.
"We did a lot of talking and making sure where each other is," she said.
Mt. Rainier won the first match as No. 1 doubles players Elizabeth Kawaguchi and Ashlyn Hoefer fired by Hitiomi Takeuchi and Sophia Koruga, 6-0, 6-0.
The first year Ram players explained their success.
"Ashlyn was aggressive at net and set up my long shots," said Kawaguchi.
"She motivated me to set up the ground strokes," added net player Hoefer.
Kennedy Catholic quickly evened the match win when No. 1 singles player senior Elena Stoll dominated Sophia Bergstro, 6-0, 6-0.
"I had to work hard against her," Stoll reported. "I used angles, but she kept getting to the shots. I hit to her backhand and just hit harder."
In their first varsity match, MRHS junior Julia Blankenship and senior Sarah Rulffes fought hard to overcome Mia Nguyen and Kaylene Coronku, 6-2, 6-7 (3-7), 10-2 (Super tie-breaker set).
"We took time in the first set and had to refocus after losing the second set," said Rulffes.
Blankenship agreed.
"We communicated more and refocused quickly at the super tie-breaker," she said.
The No. 2 singles match featured long, baseline style play that kept both players rallying strongly.
At the end of the entertaining match, Lancer lefthander Ava Dombrowski outlasted Amber Williams 7-5, 7-6 (9-7) to set up the deciding match.
"We had similar styles," said Dombrowski. "That's why there was so much competitiveness. I just managed to pull it off."
For both coaches, it was a chance to compete and enjoy.
"We had some really good matches," said Kennedy Catholic coach Tracee Lee. "It was great to just see the girls competing and pushing themselves."
Likewise, Mt. Rainier coach Cameron Robertson appreciated the efforts.
"I'm really impressed seeing a lot of students starting to learn strategy and having fun," he concluded.