Shayne McPherson - UW Beach Volleyball --has skills
Shayne McPherson - UW Beach Volleyball --has skills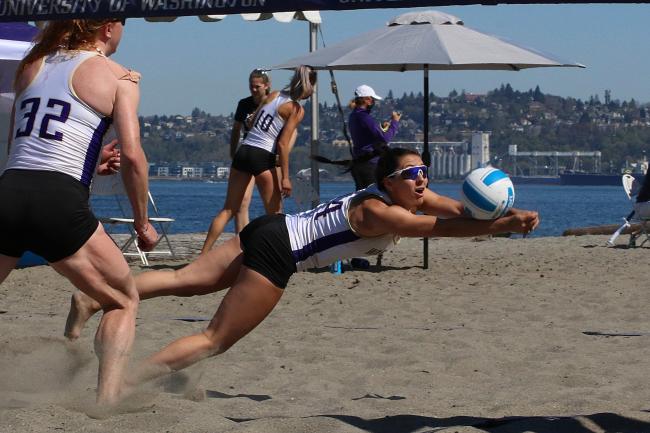 Chelle
Mon, 04/26/2021
By Chelle
CONTRIBUTING WRITER
Former Kennedy Catholic Lancer Shayne McPherson grew up playing beach volleyball until her older sister Jennica converted her to an indoor club team for her middle and high school years. 
As a Husky, she was able to return to her true love of playing on a sand court under the sun. 
With only two players on the beach, Shayne loves being able to do everything on the court, despite being one of the shorter players.
"I love that defense is just me in the back, but I still get to go up front and spike," she said.
Shayne is a fifth-year senior, graduating with a BA in Communications and a  Masters in Intercollegiate Athletic Leadership.
She plans to pursue athletic administration and coaching.
"I really want to coach collegiate beach volleyball," she said. "I feel I have a lot to offer and love having the ability to influence younger generations."
Her teammate, Lakeside graduate Chole Lorreen, is also a UW senior this year. 
Shayne's advice to younger players is "Enjoy the process and play with joy.'"
One of her joys on the court has been being accountable to her team.
"When I am a good player my team plays better. That includes cheering, hyping each other up, and inspiring confidence both on and off the court," she said.
McPherson also played for the fall indoor volleyball team four seasons at the UW, playing the libero position.
When asked if anything positive has come out of the Covid experience the past year, Shayne offered, "It has put life into perspective again. I was grateful to be allowed to play as a fifth-year senior after last season was canceled. I spent the time focused on school until we were able to play again. The UW has done an excellent job helping us feel safe at school and on the court. It almost feels normal again."