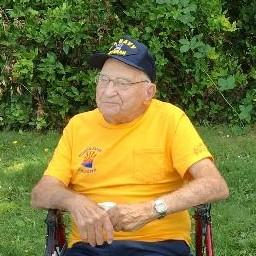 It is with great sadness that the family of Gordon D. Plancich, Sr. announce his passing after a brief illness on April 11, 2021, at the age of 95.  Gordon was born in Dockton, Washington, on September 8, 1925. 
Gordon will be lovingly remembered by his son Gordon D. Plancich, Jr and his wife Pamela and his daughter Karadene Plancich-Belanger, and her husband Harry.  Gordon had six grandchildren, Delena Belanger, Denielle Belanger, Stephanie Plancich, Jamie Plancich-Atkins, Joel Belanger, and Kimberly Plancich-Wingrove, and seven great-grandchildren, ages 25 to 4.  Gordon is also survived by three siblings Swede Plancich, Russ Plancich, and Dee Dee Arnold.
He was preceded in death by his wife Helen Mills-Plancich of 46 years and Patricia Beatty-Plancich of 23 years.  
Gordon served in the Navy from January 1943 through August 1946.  He served in every major battle in the Pacific theater during WWII onboard the Epping Forrest LSD 4 as Navigator/Quartermaster Second Class.  He faced combat in the Marshall Islands, Saipan, Guam, Guadalcanal, Leyte Gulf, and Okinawa.
Gordon lived his early years on Vashon Island as part of a fisherman's family with 11 siblings.  He was a long-time resident of West Seattle and moved to Shelton, WA when he retired.  He commercially fished in Puget Sound and Alaska while also working in the shipbuilding industry.  For more than 20 years, Gordon was in management and influenced the direction of shipbuilding in the Northwest.   He finished his career as the General Manager at Sea-Tac Alaska Shipbuilding in Tacoma, WA.
After retirement, Gordon was an avid golfer and enjoyed traveling the US in a motorhome.  He later settled in Sun City, Arizona, where he continued his love of woodworking and gardening.  Gordon loved time spent with his family and enjoyed a mean game of Mexican Train.
The angels better watch out because he is a speed demon in his golf cart!
Gordon's Celebration of Life will be held on August 21, 2021, at Dockton Park, Vashon Island, Washington.