Sports Roundup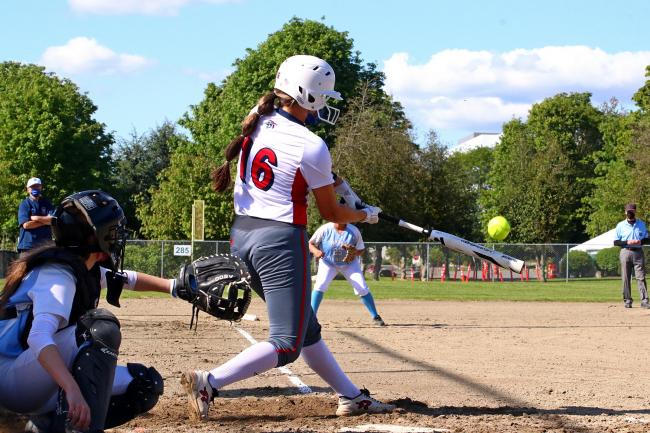 Chelle
Mon, 05/10/2021
By Tim Clinton
SPORTS EDITOR
Fastpitch softball
Kennedy 33, Mt. Rainier 5
The Lancers of Kennedy Catholic broke out their bats in a big way against Mount Rainier in a victory Tuesday.
Ballard 13, Seattle Prep 6
Ballard blasted its way past the Panthers in Metro League action this past Tuesday.
Ballard 21, Chief Sealth 20
The Beavers out slugged the Seahawks in Wednesday's clash.
Kennedy 8, Kentridge 5
Kennedy Catholic came through with another win Wednesday.
Kentwood 15, Mt. Rainier 1
Mount Rainier went down to defeat against the Conquerors Wednesday.
West Seattle 18, Cleveland 3
West Seattle won big in Thursday's action.
Roosevelt 16, Chief Sealth 9
The Roughriders trampled the Seahawks on Thursday.
Kennedy 1, Kentwood 0
The Lancers won by shutout in a close one Friday.
Tahoma 21, Mt. Rainier 3
Tahoma made it a rough week all around for the Lady Rams.
Baseball
Kennedy 11, Mt. Rainier 4
Kennedy Catholic emerged victorious against the Rams last Monday.
O'Dea 7, West Seattle 5
West Seattle lost a close one to the Irish last Monday.
Eastside 12, Chief Sealth 2
Eastside Catholic downed the Seahawks in Monday action.
Roosevelt 12, Ballard 4
Roosevelt beat the Beavers last Monday.
Kennedy 13, Mt. Rainier 6
Kennedy Catholic also won Thursday's rematch against Mount Rainier.
Garfield 6, Chief Sealth 0
The Seahawks were blanked by the Bulldogs Thursday.
West Seattle 6, Ballard 5
West Seattle bested Ballard on Thursday.
Kennedy 9, Federal Way 3
The Lancers downed the Eagles in Friday action.
Kentridge 9, Mt. Rainier 4
Mount Rainier was trampled by the Chargers Friday.
Boys soccer
Mt. Rainier 3, Kentridge 0
Mount Rainier blanked Kentridge in last Tuesday's match.
West Seattle 3, Eastside 2
West Seattle outscored the Crusaders Thursday.
Lakeside 2, Ballard 0
Lakeside shut down the Beavers on Thursday.
Tahoma 5, Mt. Rainier 3
The Bears pounced on the Rams last Friday.
Boys basketball
Ballard 50, Blanchet 41
Ballard beat back the Braves in Monday's Metro League clash.
Garfield 75, Ballard 49
The Beavers did not care so well the next night.
Lindbergh 64, Highline 58
Lindbergh outlasted the Pirates in a close one Tuesday.
Chief Sealth 66, Lincoln 54
The Seahawks soared to victory Wednesday.
Ingraham 60, West Seattle 44
The Wildcats went down to defeat in Wednesday's road game.
Lindbergh 66, Highline 62
Lindbergh sank the Pirates in an even closer rematch Thursday.
Chief Sealth 66, Cleveland 57
Chief Sealth triumphed in Friday's clash against Cleveland.
West Seattle 52, O'Dea 51
West Seattle won a Friday thriller over O'Dea.
Ballard 53, Lakeside 35
The Beavers slapped Lakeside with a loss last Friday.
Girls basketball
Blanchet 47, Ballard 32
Bishop Blanchet beat Ballard's Beavers last Monday.
Garfield 45, Ballard 34
It was Garfield that topped the Beavers on Tuesday.
Tyee 44, Evergreen 14
Tyee trounced the Wolverines on Tuesday.
Chief Sealth 40, Lincoln 22
Chief Sealth crushed Lincoln in Wednesday's game.
West Seattle 70, Ingraham 28
West Seattle won big Wednesday against Ingraham.
Evergreen 38, Tyee 37
Evergreen posted a close win Thursday after losing big to the same team two days earlier.
Chief Sealth 40, Cleveland 24
Chief Sealth won again Friday.