Maritime High School sets sail this fall
Maritime High School sets sail this fall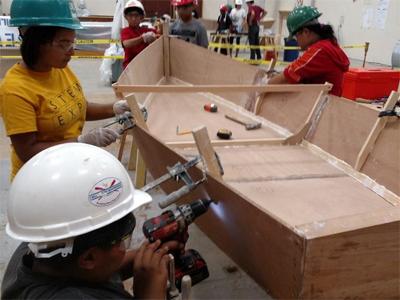 Courtesy Northwest Maritime Center
Thu, 06/10/2021
By Tim Clinton
SPORTS EDITOR
Forty five passengers will be on board when Maritime High School launches out into its maiden voyage this fall.
Current Highline High School principal Tremain Holloway will be at the helm for the group of ninth graders.
"I close out this chapter July 1," Holloway said.  "Right now I kind of feel like I'm working two jobs."
Highline School District is hosting the Maritime program, with 55 percent of the students coming from its service area.
"The other 45 percent are from all over," Holloway said.  "Port Townsend, Olympia, Gig Harbor..."
As the first class moves up, younger classes will be added.
"The goal is to start small with 45 students and beyond that to add 100 each year," Holloway said.  "Their junior and senior year we'll add upper level courses. We'll have college courses on our campus."
Programs offered at Maritime come under three categories:  Maritime Construction, Vessel Operation and Design, and Marine Resources.
Jobs in the field the school can help prepare students for are much more diverse.
"This is a broad field," points out Northwest Maritime Center executive director Jake Beatty.  "It ranges from phytoplankton to super tankers."
The formation of the school had what Holloway called "three big players" along with the Highline School District.
They are the Port of Seattle, the Northwest Maritime Center in Port Townsend, and the Duwamish River Cleanup Coalition -- all of which will offer internships to qualifying Maritime High School students.
"The Port of Seattle had the vision," Holloway said.  "Commissioner Ryan Calkins wanted a school dedicated to Marine studies."
"We bring maritime expertise to the school," said Northwest Maritime Center chief executive officer Stephen Streufert.  "Our second role is that public schools require extra funding.  We're an organization to raise funds for the launch of this school."
"It's like a dream come true," said Duwamish River Cleanup Coalition executive director Paulina Lopez.
For the first three years the school will be located at what is known as the district's Olympic Site at 615 South 200th Street in Des Moines.
"Then we want to get one closer to the water," Holloway said.
The school will not offer big activities such as band or sports.
"They will be able to still do those at their neighborhood schools," Holloway said.
Maritime also will not have the six class periods of a traditional high school.
Instead it will have what's known as Project Based Learning.
"Things like math and science will all be encompassed in a mastery transcript," Holloway said.  "It will show the whole story, not a number or a letter grade."
Students from other such programs have been accepted into such places as Ivy League schools and Stanford University.
"It translates into getting them to their school of choice or into the work force," Holloway said.
Jobs in the maritime field average a salary of $70,000 including factoring in entry level positions.
"Serving our diverse students in South King County and introducing them to the wide variety of high wage, high demand jobs that are in the maritime and marine sciences industry can do nothing but benefit our state and the industry," wrote Highline Public Schools superintendent Dr. Susan Enfield.