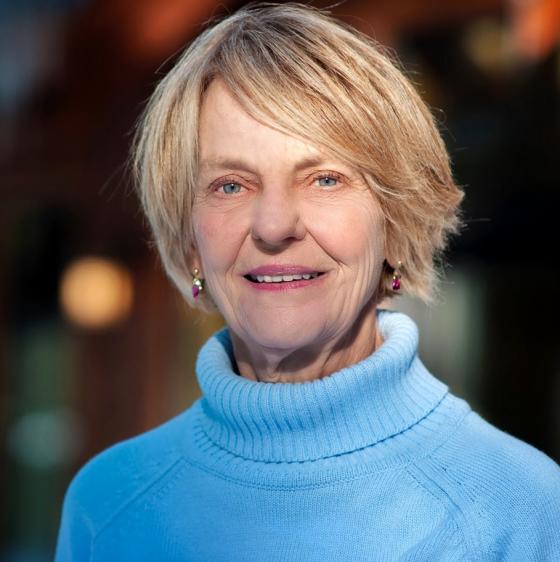 Janice Kay (Martinson) Heckman was born January 2, 1943, in Starbuck, Minnesota, to Nels and Fern Martinson. Her family left Minnesota for Seattle, Washington in November 1949.
Jan attended Beacon Hill Elementary, and ASA Mercer Middle School, then Olympic Junior College in Bremerton, WA, but it was Cleveland High School, in Seattle, that had the strongest impact on her. There she was the center core of a whirling group of classmates, many who married each other and raised families at the same time. She affectionately named their group after their high school mascot, "the Eagles," and was forever known to them as, "Eagle Jan." A year after graduation, a group traveled to Pullman, WA and when they returned from that weekend, she, and a handsome, gentle, fellow Eagle named Charles Anthony Heckman Jr., started dating.
The couple were wed in a lovely service at Beacon Hill Presbyterian Church on November 14, 1964. They first set up housekeeping in a modest home near Jefferson Park, but soon moved to West Seattle in 1966, where Jan gave birth to their first son, Jeffrey, on Christmas day of that same year. Their daughter, Julie, followed in July 1968, and in September 1972, their second son, James, completed the family. Janice created an idyllic childhood for her children and made every holiday and vacation more magical than the last.
Jan worked full time as a service representative, and in the PR department for Pacific Northwest Bell, then at Sealand in the 1980s and 1990s where once more she made lifelong friends. The couple moved to Arlington, WA, in 1993, when Chuck started his own commercial insulation business, Heckman Inc. In her later years, Jan enjoyed part-time work for the Arlington and Everett School District, where she loved working with the students and staff. The couple moved to Stanwood, WA overlooking Sunday Lake and the pristine swans that collected there.
Chuck and Jan loved boating every summer together in Canada and the San Juan Islands, among other places, on their thirty-one foot Storeboro named the Scaup. She played soccer into her forties and enjoyed watching all kinds of sports. They traveled to exotic locations all over the world, making friends and experiencing all the joys and sorrows of life with their beloved Eagles, the Heckman family, the Martinson family and all their other special lifelong buddies. One favorite spot was Panama City Beach, Florida and they went there every year, until the unthinkable happened in March 2008, and Chuck passed away from non-Hodgkin's lymphoma. Jan was lost. She filled the void with her family and friends, and found another wonderful community that embraced her with open arms when she purchased a condo at Mariner East in PCB, FL. She spent the entire month of October each year searching for shells on the white quartz beach she walked so many times with her sweetheart. In 2016, she moved closer to Julie and the wonderful Coyle family in Southworth (Kitsap County).
Jan's glory was in her giving. It was dancing when you came to visit, gardening, dog-sitting, taking a half hour to craft a text to make it perfect for you, marking up a Hallmark card to emphasize the words she really wanted you to know. It was giving blood and money to her causes, giving you her time, hugs and laughter. Jan single-handedly kept Goodwill in business, then gave all her found treasures to the people she cared about. She loved to play Liverpool Rummy, Spoons, drinking Pinot Grigio, and having toasts with Cook's champagne mimosas. If you didn't know and love Janice, it's because there wasn't enough time. The genuine pride and soul of her life were her grandchildren, and she devoted so much of her time to their games of basketball, soccer, swimming and track. She attended their school plays and music performances and made sure each of them knew how unique and special they were in her eyes.
A merciful God allowed a final Heckman clan vacation at PCB, FL, complete with professional family photos, a dinner at her favorite Firefly restaurant, games, and so much joy to mark the occasion. Twelve days later, on July 7, 2021, Janice Kay Heckman was suddenly reunited with her beloved husband Chuck, her parents, Nels and Fern Martinson, her sister, Miriam (Don), and her in-laws, Charles and Mildred Heckman. Those that remain to love and remember her are her children, Jeff (Jeny), Julie (Chris), and Jamie (Aimee), her grandchildren, Paisley, Charlie, Tristan, Gabe and Calie, her sister Carolyn (Roy), and brother Jim (Janice), and her sister's-in-law Susan (Mike), and Rosemary (Mustafa), as well as beloved nieces, nephews, family, and cherished friends.
May the angels of our compassionate Father raise Janice up in song as she is given the breath of life eternal.
Jan's Celebration of Life will be held at Salty's on Alki Beach on August 25, 2021 beginning at 1:00 pm. For up-to-date information, please go to: https://bit.ly/3iAD9JB. In lieu of flowers, please consider donating to her favorite charities: Hospice of the Northwest or the American Cancer Society in Janice Heckman's name. Thank you!