Sportswatch
Sportswatch
Sporting events worth keeping an eye on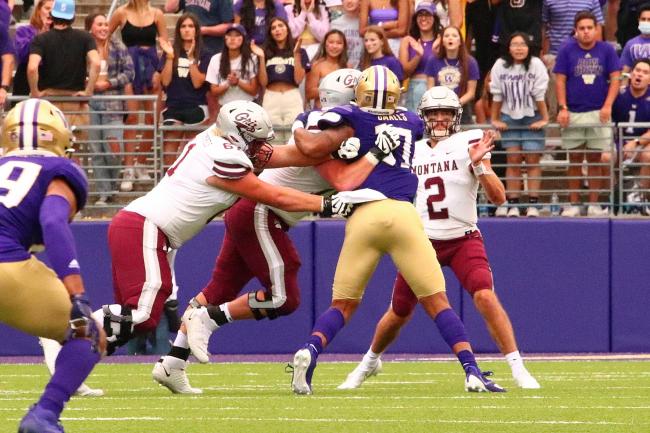 Chelle
Mon, 09/06/2021
By Tim Clinton
SPORTS EDITOR
High schools
Football
Highline hosts Mercer Island for a 6 p.m. Thursday game and Mount Rainier travels to Peninsula for 7 p.m. action.
Evergreen/Tyee entertains Meridian at 7 p.m. Friday at Highline Memorial as Chief Sealth hosts Clover Park at the Southwest Athletic Complex.
Ballard plays a home game against Roosevelt as Kennedy Catholic visits O'Dea and Foster goes to Rainier Beach.
West Seattle travels to Bellingham for 8 p.m. action.
Volleyball
Evergreen plays host to West Seattle at 7 p.m. Wednesday as Ballard entertains Rainier Beach.
Kennedy Catholic gets a 7:15 p.m. visit from Seattle Prep as Mount Rainier travels to Rogers.
Kennedy Catholic is home against Rogers at 7:15 p.m. Thursday and Ballard is at Kent-Meridian.
Monday's schedule has Ballard at Chief Sealth at 7 p.m. as West Seattle entertains Eastside Catholic.
Highline travels to Thomas Jefferson at 7:15 p.m.
Tyee is home against Evergreen at 7 p.m. Tuesday.
Girls soccer
West Seattle plays a 4 p.m. Thursday home match against Lake Stevens and Chief Sealth hosts Franklin at 4:30 p.m. with 7:30 p.m. action including Kennedy Catholic at Liberty and Ballard at Kamiak.
Highline hosts Thomas Jefferson at 5 p.m. Friday and Kennedy Catholic entertains Blanchet on its own campus field at 10 a.m. Saturday.
Mount Rainier goes to Todd Beamer at 3:30 p.m. Tuesday and scheduled for 4 p.m. are Lakeside at West Seattle and Ballard at Eastside Catholic.
Tyee is at Foster at 7 p.m. with Highline hosting Sammamish and Kennedy Catholic going to Auburn Mountainview at 7:30 p.m.
Pros
Mariners
Seattle wraps up its series in Houston on Wednesday, playing the Astros in an 11:10 a.m. game broadcast on YouTube.
The Mariners come home to T-Mobile Park to play the Arizona Diamondbacks at 7:10 p..m. Friday, 6:10 p.m. Saturday and 1:10 p.m. Sunday.
Boston's Red Sox roll in for action at 7:10 p.m. Monday and Tuesday.
Most Seattle games are carried on the ROOT Sports cable television network.
Seahawks
Seattle opens its National Football League season Sunday, paying a 10 a.m. visit to the Indianapolis Colts.
The game can be seen on Channel 13.
Sounders
Seattle plays host to Minnesota at 2 p.m. Saturday on JOEtv and entertains Santos Laguna at 7 p.m. Tuesday on ESPN2.
Both matches will be played at Lumen Field.
Storm
Seattle visits Los Angeles for 6 p.m. Sunday action on JOEtv.
OL Reign
The women's soccer squad goes to Washington for a 2 p.m. Sunday match on Paramount+.
Rainiers
Tacoma hosts Sacramento for 7:05 p.m. games Thursday, Friday and Saturday ahead of a 1:35 p.m. Sunday game, a 12:05 p.m. Monday matinee and a 7:05 p.m. Tuesday clash.
Aquasox
Everett is in Eugene playing the Emeralds at 7:05 p.m. Wednesday and Thursday, followed by a 4:05 p.m. twin bill Friday.
The AquaSox host Spokane at 7:05 p.m. Tuesday.
Emerald Downs
Horse racing action at the Auburn track starts at 5 p.m. Saturday and 2:30 p.m. Sunday.
Colleges
Husky football
Washington faces a 5 p.m. Saturday game at Michigan on Channel 4.
Cougar football
Washington State entertains Portland State at 3 p.m. Saturday in Pullman.
The action can be seen on Pac-12 cable.
Husky volleyball
Washington visits Pepperdine at 7 p.m. Friday and battles Cal Poly at 6 p.m. Saturday in Malibu, Calif.