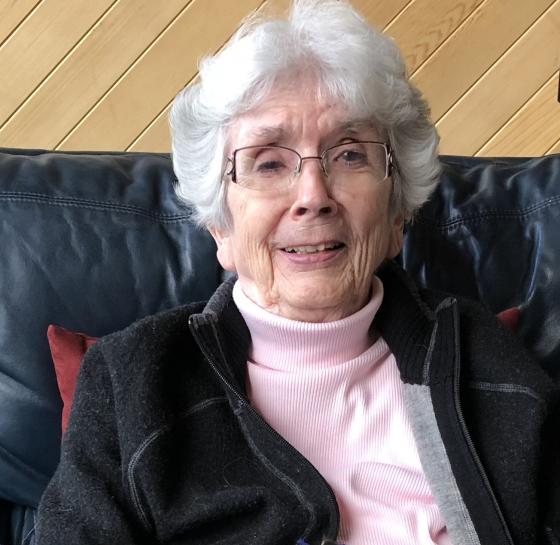 Miriam Jackson Curran passed away peacefully January 14, 2022, three weeks after celebrating her 100th birthday.  Born in Westchester County, New York, she lived as a child on a sprawling nursery owned and managed by her father.  She was a mischievous child with an insatiable curiosity and the instigator of many amusing schemes.  As a teenager, she turned her creative talents to art and theater.  She majored in Art at Skidmore College, graduating in 1943.
In 1946, she married Robert (Bob) Curran, then an engineering student freshly out of the Army Air Corps.  A year later, they had their first child, Wendy Lee.  A few years, jobs, and towns later, Bob and a pregnant Miriam moved to Seattle for a job with Boeing.  A week later Bob was called to active duty by the Air Force Reserve during the Korean War and ordered to report.  Their last funds were used to buy his uniform.  Fortunately, service overseas was not in the cards.  The war would be spent at Wright Patterson Air Force Base in Dayton, Ohio where a son, another Robert, was born.  After the war, Miriam and Bob settled in northern New Jersey, where Miriam was active in a local theatre group.  They built their dream house, which Miriam designed, only to receive another job offer from Boeing.  Bob moved to Seattle while Miriam ran the household, sold the house, and piled the kids onto a train nine months later for the trip west.  Seattle would be her home the rest of her life. 
The family settled in Burien on a twisty one lane road named Hillcrest.  It would be their home for the next 60 years.  Miriam was active in charitable activities, the arts, and the formative efforts to start a heritage museum in Burien.  She was active in the Burien Arts Association for many years and managed its gallery in Dottie Harper Park.  A life-long collector of antiques, she was active in the American Antique Glass Club and wrote numerous papers regarding esoteric types of glass.  She also researched and wrote articles on local history for the Highline Times.  After her children fled the house, she started a company with a friend to buy and sell Northwest Indian Art.  She also worked in an antique gallery in Pioneer Square. 
Miriam is survived by her two children, four grandchildren, five great grandchildren and numerous cats who descended from those she loved, nourished, and gave away to good homes.  She was always true to herself and a blessing to those who loved her.