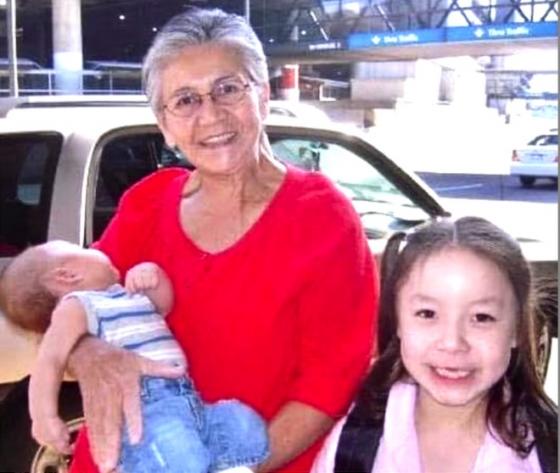 All are invited to celebrate Clarissa Florence Booth-Somerville, who was a resident of White Center, Burien and SeaTac since the 1960s, on Saturday, September 24, 2022 at 2pm on Alki Beach between 62nd & 63rd Ave. S.W. For more information call her daughters at 907-280-8118 or email gatgyedmhanaax@gmail.com. 
Clarissa Florence Booth-Somerville was originally from Metlakatla, Alaska and was the 12th child born to William "Billy" Booth and Violet Atkinson on July 30, 1942. At age 14 Clarissa attended Sheldon Jackson High School which was a boarding school in Sitka, Alaska. She remembered meeting students from all over the state and working summers to cover tuition. At age 16 she lied about her age and snuck into the Mt. Edgecumb Nursing School to become a Registered Nurse. She married Patrick Moore in Sitka shortly after graduation and they had their daughter, Candis Moore in 1960. After two years of marriage, they divorced and shortly after that she moved to Seattle, Washington and became a city girl! 
In the 60s and 70s Clarissa worked as a Nurse's Aide because they didn't recognize an Alaska Nursing License and she made $1.45 an hour at Doctors Hospital. To make ends meet she took on being a cocktail waitress at the Lotus Lounge and later managed the Scenic. Eventually she began working the summers on the Kayak floating cannery in Bristol Bay and the crab cannery in Dutch Harbor in the winter. She loved visiting the villages of southwest Alaska such as Togiak and Twin Hills. When the 1964 earthquake happened in Alaska, she volunteered to go to Kodiak to help with medical needs and witnessed a ship that had washed ashore; it later became a bar and hotel where she worked as a cocktail waitress. In 1979 her second daughter, Karla Booth was born, and she raised her in White Center. 
In the 80s Clarissa volunteered at the Indian Center by helping with the free clothes program, the free food line, and the kitchen. She opted for a career change and went to Culinary Arts school at South Seattle Community College. During that time, she enjoyed making various birthday cakes and desserts for her family that she decorated with things like buttercream roses, Teenage Mutant Ninja Turtles, Bart Simpson, and Barbie. She made her granddaughters graduation cake with the Kake Thunderbirds formline design, numerous nephews' wedding cakes, and realistic hamburger cakes for various celebrations. One of her most prized creations was making a gingerbread house of the family home that she grew up in painted with green food coloring. It included her mom, dad, siblings and clothing and details that was special to each one of them. She was also known for making fruit flans, decorated sugar cubes and various cookies that were served at her annual Christmas Eve parties. 
In the 90s Clarissa worked as cook on an Arco Oil Tanker that was based out of Long Beach, California. She worked in the White Center Albertson's Bakery making cookies, cakes, and pastries. Later she worked for the Highline School District as a substitute cook and baker for their kitchens. Later she became a permanent baker at Highline High School. During her time working at the schools, she loved engaging with the students by learning where they came from and sharing her own Tsimshian culture with them. She would often ask students how they say specific foods in their languages. Her time at Highline also included experiencing racism and prejudice in the kitchen and left a lasting impression on her. She spoke up and reported the incidents and never understood how her coworkers could be so mean to her and the diverse students. In 1993 she married her long-time friend Glenn Somerville who she had known since the 70s. 
In 1998 Clarissa was forced to retire from Highline and moved to an apartment in SeaTac. While living there she amped up her long-time hobby of feeding the homeless in downtown Seattle and volunteering at various shelters. She made goodie bags and lunches that she would pass out to people from her silver Tracker. At times she would pack 100 bags and give them all out in one session! She recruited various family and friends to help pass out food during different trips. During one Thanksgiving she cooked 6 turkeys in her home for the Seattle Mission. Before the pandemic she went to a homeless camp near White Center to check on a woman that was pregnant and living in a motorhome. She found the woman had given birth moments before she arrived, so she grabbed from her car a string to tie the umbilical cord, 1-inch scissors to cut the cord, a gallon of water to clean the mother and baby, a receiving blanket to wrap the baby, and changed the bedding with a blanket she had. During the pandemic she agreed to take care of a 2-week-old baby that weighed 3 pounds because there was no room at local hospitals. The baby shook due to drugs in its system and needed to receive its medicine through shots. While caring for the baby Clarissa was reminded of when she helped her mom when her siblings were born. Her mom told her to hold babies to your chest because they like to hear your heartbeat. Clarissa strapped the baby to her chest, and it stopped crying; she then slept sitting up so the baby was comfortable. Childhaven was able to take the baby back two days later. 
Besides helping others and working well under pressure, Clarissa enjoyed watching crime shows, coloring, making sturdy hand fans, going to the movies, people watching, walking in high winds, visiting Angle Lake, Alki Beach and Golden Gardens, attending Pow-Wows and Paddles throughout Washington, trying her luck on the penny slots at the Muckleshoot Casino, and keeping track of Seattle sports and national politics. She always wore White Shoulders Perfume, her toenails painted red and fluffy fleece. 
Clarissa passed on August 14, 2022, in Burien, Washington after experiencing a stroke on August 2. She is survived by her daughters Candis Moore and Karla Booth of Anchorage, Alaska, her grandchildren Patrick Cook, Violette Johnson, Kage Anderson, and Jeffrey Mark. Her great-grandchildren Eric Ashenfelter, PJ Dunn, Sydney Johnson, Tristen Johnson, Carver Cook, and Credence Cook. And her great-great grandchildren Jaxon and Layla Ashenfelter. Her sisters Joan Collier, Angie Anderson, Rowan Booth, Judy Staples, Betsy Booth and brothers Brammy Booth, Darrel Booth, and Stevie Booth. She is preceded in death by her husband Glenn Somerville of Wisconsin, ex-husband Pat Moore of Sitka, grandparents Edward Atkinson & Georgiana Mather, Simon Booth & Amy Sellers, parents Billy Booth and Violet Atkinson, brothers: Jackie Booth, Gilbert Booth, William Ed Booth, Tommy Booth, Errol Booth, and sisters: Violet "Stretch" Booth, Jeannie Kirchner, Sharlene McKay, Linda Savage, Rosalie Bevis, and Lisa Booth. 
If you have stories to share about Clarissa please contact her daughters at 907-280-8118 or email gatgyedmhanaax@gmail.com.