West Bay Coffee is back, for the second time
West Bay Coffee is back, for the second time
Pipes bursting and then wiring being stolen can't keep them down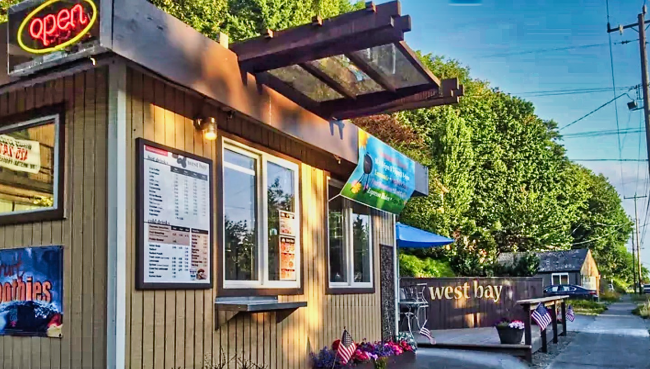 Thu, 11/17/2022
If you've driven on Harbor Ave in West Seattle you have seen West Bay Coffee, tucked in just off the road and as thousands of people have discovered, they make great coffee. That's what has kept the lights on for the past 14 years. But last winter, their pipes burst in the below freezing temperatures and it looked like it was over. The landlord told them they could could close or find a way to fix it. So, relying on the goodwill of the community they put up a GoFundMe and raised nearly $8000. Here's their text about it below. But that's not the end of the story.
"Westbay Coffee and Smoothies needs your help!

After watching so many wonderful local businesses have to shut their doors permanently during this pandemic, we counted ourselves beyond blessed and kept pushing through. The last two years have not been easy for anyone! We've been through covid exposures, weathered on going supply chain issues and enormous supply price hikes, while trying to keep everyone safe.

The most recent winter storm dealt us what could be a final blow to our sweet little coffee stand of 14 years.

The below freezing temps caused the pipes to burst in the main building that is shared with the coffee stand. This left us with very little water pressure, but we were still able to run. The landlord is unable to fix the pipes and as of January 8 the water to building was shut off leaving us without water to the stand, a working bathroom, an ice machine, or a washer/dryer for our towels.

The building owner has told us we can either close PERMANENTLY (lease expired end of 2021) or find our own way to stay in business by rerouting the water lines ourselves and solving the rest of the issues on our own. As you can imagine, keeping our business open and doing what we love, comes with a hefty price tag.

Yes we want to stay!!!

We have absolutely loved serving West Seattle over the last 14 years (yes 14!) Each and every one of you has become like family to us. We love being a part of your lives -celebrating your achievements with you, watching your kids grow up, watching our high school Redbull punch drinkers graduate, and come back to see us on their breaks from college, and being with you through your losses and hard times.

So now we need your help through this fundraiser to assist with the cost getting and keeping Westbay Coffee and Smoothies operating. We are asking for $8,000.00 to be able to keep making great drinks and great memories and every single dollar helps!

Thank you for helping save Westbay, from all of us

Jennifer, Erin, Hannah, Maddie,

Cassie and Shaila ❤️"
The response was swift and heartening. They raised the money and managed to get everything fixed.
After getting the water restored, owner Jennifer West and crew came in one morning a few weeks ago to find that all their wiring had been stripped out and stolen. But these are resilient people. So they looked for some way to recover from this second blow to the business. The good news is that they've done it. Again. Here's their latest update:
"We've overcome a lot of adversity these past few years, but this time there were quite a few steps to have us operational again.

After the theft of our Seattle city Power meter and all the wires that leads to our electricity to the shop we were able to open an insurance claim. After several electrician bids, (some that even no-showed, waisting time) we were able to have a new power meter installed last Friday. Believe me this whole process is much more complex then people think!

The city inspection has been completed, and we are just waiting for the last step by Seattle City Lighting to make the final connection so we can hopefully be open for the weekend.

With 2 weeks of lost revenue due to this petty theft that impacted myself, 5 employees and their families, this time it really hit us hard. I seriously contemplated to even reopen due to the unwavering fact that this can happen again and nobody is held accountable. We've always had systems in place like surveillance cameras, a security alarm, there's never any cash left at night, and we've always closed at 5pm to avoid late night safety concerns. We now have 2 people on morning shifts just to have support with all the morning RV activities happening at 5:30am. These people are busy in the mornings. Usually outside cutting metal, shuffling stuff to and from, fights and blasting the music to name a few observations. 

With all the crime and break-ins we've had to overcome these past few years there's no budget for that with a small business, it's directly from my profit which is how I support my family. There's small business grants on rebuilding business store fronts, which I haven't been successful at receiving. (Any tips on that I'd gladly appreciate it)

Overall we are the only drive thru on Harbor Ave/ALKI which serves much of the high school population, walkers on the trail and morning commuters. It's really put a wrench in people's schedules and routines. 

I would like to thank my amazing team, and the extended support from our dedicated West Bay coffee community. Without all of you, we wouldn't be here, so thank you for your continued love and support. 

We hope to you see you this weekend!

Good vibes and Good coffee!

Jennifer"