Kennedy Catholic "prayed their butts off" in loss to Lake Stevens
Kennedy Catholic "prayed their butts off" in loss to Lake Stevens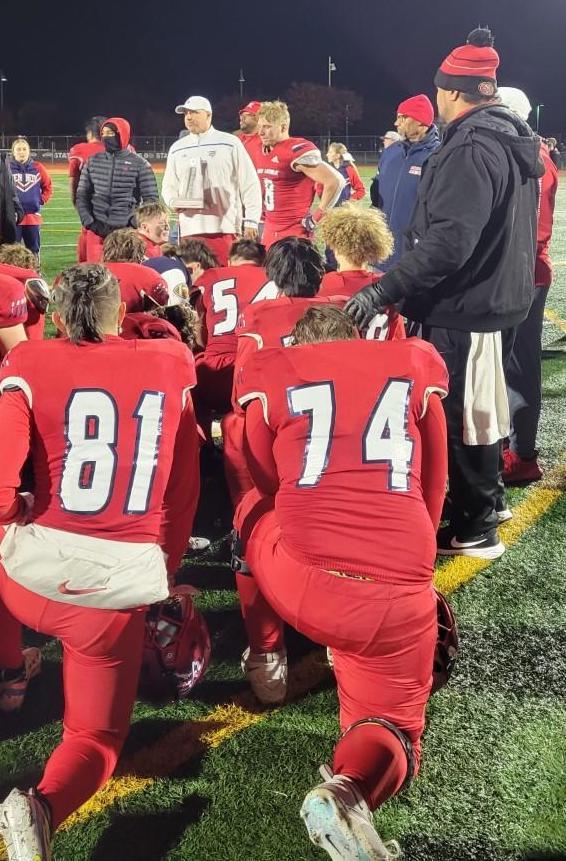 Photo by Gloria Mingori
Sun, 12/04/2022
By Chuck Mingori 
Kennedy Catholic traveled to Mount Tahoma Stadium Saturday night riding a 12-game winning streak and a shot at its first ever state football championship.  
Instead, the Lancers (12-2) lost a heartbreaker and had to settle for a runner up finish after falling to Lake Stevens, 24-22, in the 4A state title game.  
"It's just such a game of inches. God, we needed one more play and we just didn't get it tonight," said Kennedy football coach Sheldon Cross, following his team's heartbreaking loss. Kennedy reached the state 3A title game in 2006 but lost 21-14 to Bellevue in overtime.  
"I'm proud of our guys, they played their butts off," Cross said. "And it was a great football game." 
The Lancers took the opening kickoff and moved the ball to midfield, but a deflected pass at the line of scrimmage resulted in an interception by lineman Ashten Hendrickson of Lake Stevens (12-2). The   Vikings' Jayden Limar, who rushed for 185 yards on 33 carries, put the Vikings on top early with a 4-yard run. The Lake Stevens running back, headed to Notre Dame, had to work hard for his yardage throughout the game as he was tackled for loss several times, including two times by Kennedy's Micah Banuelos, who has committed to play at USC. 
Kennedy Catholic answered at the 4:16 mark of the second quarter after a hit by linebacker Mason Hayes on the Lake Stevens quarterback forced a fumble.  Xe'Ree Alexander scooped up the loose ball and ran it back 64 yards for a touchdown.   
Lake Stevens quarterback Kolton Matson found Isaac Redford open for a 17-yard score on the next possession and the Vikings were on top, 14-7.  But the Lancers quickly answered.  
Quarterback Payton Faker, replacing starter Devon Forehand who suffered an injury to his shoulder, found tight end Hayes for a 29-yard pass play that moved the ball down to Lake Stevens' 36. Two plays later, Faker hit Maclaine Watkins for a 31-yard score with only 38 seconds left in the first half.  A handoff from Hayes to Alexander resulted in a two-point conversion and Kennedy went into the locker room leading 15-14. 
After an exchange of punts to start the second half, Lake Stevens was knocking on the door again, but a 37-yard field goal was blocked by Alexander right after he had thrown the Vikings' QB for a 10-yard loss.   Lake Stevens was in good position on its next possession after a nice return. The Vikings scored on fourth down on a 23-yard pass play from Matson Cole Becker to give Lake Stevens a 21-15 lead with four seconds left in the third quarter. 
A 53-yard pass play from Faker to Isaac Syph set up a quick scoring Kennedy series early in the fourth quarter. A 1-yard run by Alexander and Hayes' PAT gave the Lancers the lead again at 22-21 with 10:32 left to play in the game. 
A short punt by Lake Stevens gave the Lancers the ball just past midfield, but Kennedy was stopped on a fourth down pass attempt. Kennedy's defense stiffened and forced a 21-yard field goal from Flanders with just more than five minutes to play that proved to be the game-winner.
Dante Saldino's fumble recovery at the Kennedy Catholic 18 gave the Lancers one more chance to get something going with 3:24 remaining. Kennedy Catholic moved the ball to its 48 on a 16-yard passing play from Faker to Hayes.  
The drive ended on fourth down, although a near completion to Syph on the Lake Stevens 10-yard line with 2:01 came close to changing the final outcome. The Lancers used their timeouts in an attempt to regain possession, but the Vikings were able to run out the clock. 
 The Lancers ran off playoff victories over Richland (46-35), Skyline to (38-10) and Emerald Ridge (42-28) to advance to the 4A title game.  
"I think our guys have to look back and just realize what a journey this was, the whole year, and be proud of what they did...We almost won it. We were right there," Cross said.