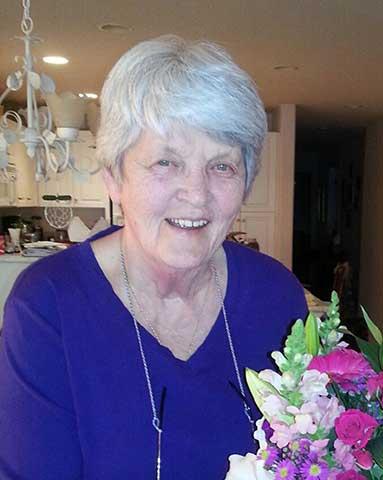 On Wednesday, December 7, 2022, Evon Marie Wells better known as "Mom" to many, passed away peacefully at home at the age of 86.
Evon was born on June 5, 1936 in Crosby, North Dakota to Pearl E. MacLean and Lyle Chapman.  Evon, with her mother Pearl and sister Aris, moved to Seattle in the early 1940's where they lived on Alki Avenue in West Seattle until they moved to 38th Avenue in the Admiral District.
Evon graduated from West Seattle High School in 1954.  That August she married Jack Kallerson and in October of 1955 gave birth to son Jack.
Evon remarried in 1958 to George L. Wells and had 4 children.  Dennis, Denise, Denette and Denell.  Evon and George shared the love of archery and golf.  She loved the small town feel of West Seattle where she lived her entire life.
Evon went to work for Sears and Roebuck until she started her family.  She raised her family till she went back to work at Crowley Maritime in the early 1970's.   Evon became an Engineering Crew Coordinator which meant she scheduled the engineering crew for the tugboats, a job she loved.  Over the years at Crowley she watched these "boys" as she called them grow up into men and loved every one of them.  Evon retired from Crowley in the late 1990's and continued the lifelong friendship with the people she worked with.
Evon loved hotdogs, mac & cheese, plain cake donuts, cold pizza and her coffee black, cool and weak.  She loved baking, however cooking, not so much.  Evon baked some mean cookies. Snickerdoodle, peanut butter, and gingersnap to name a few.  Her melt in your mouth cinnamon rolls and homemade pizza were family favorites.  She never turned down a back scratch and would close her eyes to savor the feeling when someone brushed her hair or scrubbed her scalp.
Evon always wanted an El Camino, a red truck and a tattoo.   She had a thing for Alaska, country music, David Muir, Judy Garland and The Sound of Music.  Evon believed in good manners, helping people, and always saying hello.  She had a quick wit that made you laugh with her one-liners. She was very funny.  Her favorite time was spent with family and friends.
Evon was preceded in death by her mom Pearl, her dad John "Mac", her sister Aris, son baby Jack and son Dennis.
She is survived by her daughters Denise (Roger), Denette (Jim "Jake"), Denell and two grandsons, Michael and Cole.  She has many nieces and nephews, extended family and dear friends she considered family.
A Celebration of her life will be held Saturday, January 7, 2023 at Salty's On Alki in West Seattle from 11:00am – 2:00pm.     
In lieu of flowers, donations can be made in Evon Wells name to:    West Seattle Senior Center
https://fundraise.givesmart.com/f/2usk/n?vid=wb4re
or your favorite charity.
Thank you for sharing your lives with our mom and opening yours to her.  Remember to be kind, smile, say hello and enjoy life.