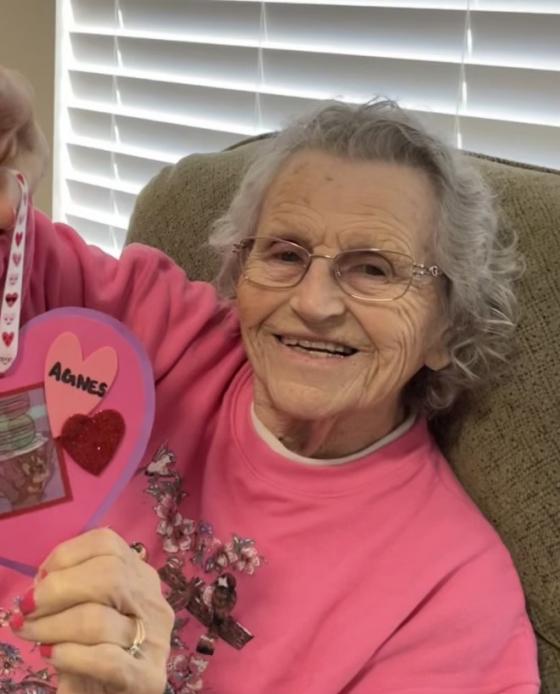 Agnes Mae Murray
12/27/1929 – 1/10/2023
Agnes Mae (Stashuk) Murray, passed away peacefully at her home in Des Moines, WA surrounded by her loved ones on January 10, 2023.
Agnes was born on December 27, 1929, in Grassy Butte, North Dakota to Zena and John Stashuk. Agnes' siblings included Rose Benn, Joseph Stashuk, Merle Daley, Violet Vick, Victor Stashuk, Lily Miller, Frank Trout, Roger Trout, Larry Trout, Joseph Trout and Lawrence Trout.
Agnes is preceded in death by her loving husband of sixty years Robert Brown Murray, and is survived by her children Robert Michael Murray (Ruth), Carol Harpole (Edward), Joanne Paquette, Patrick Murray (Wendy), Thomas Murray (Carryl) along with 19 grandchildren and 36 great-grandchildren and numerous nieces and nephews.
Agnes left North Dakota in 1947 and moved to Quincy, WA with her sister Rose and her brother-in-law Burton; then eventually onto Seattle, where she worked at Manning's Café in West Seattle and met her future husband Bob. They married October 14, 1950 and resided in West Seattle and started a family. After several moves to accommodate Bob's career, they eventually resided in Burien, WA, where they opened a restaurant named Chicken Delight and ran it together for several years, closing in 1970 when Bob then went to work for the state of Washington and Agnes at the Red Lion Hotel. In their retirement years they traveled extensively as time and new grandchildren permitted. Bob was Block Watch captain and a member of the American Legion; Agnes was busy volunteering with the American Legion Auxiliary.
In 2009 they made one more move to the Huntington Park Retirement Community in Des Moines, WA, where she loved walking Bobo, her grand puppy, talking to neighbors and baking treats. She had many hobbies including sewing quilts and creating photo albums and scrapbooks.
A memorial service will be held at the Huntington Park Clubhouse on January 28, 2023, from 2-4 pm in the afternoon and private grave side burial on January 30 at Forest Lawn Cemetery in West Seattle.