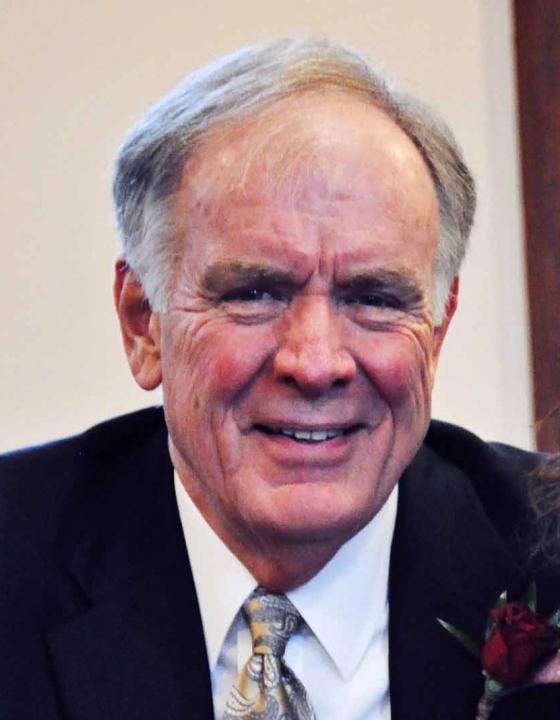 Services:  Friday, Jan 20th / 1PM / West Side Presbyterian Church / 3601 California Ave SW, Seattle, WA 98116
Ron was born December 11, 1942 to Glenn and Marjorie Riedasch in Seattle and raised in
West Seattle with his sister, Eleen.  He attended Lafayette Elementary, James Madison Junior
High, and West Seattle High School, graduating in 1961.  He went on to WashingtonState University, joining the Pi Kappa Alpha fraternity, and a prouder Cougar you would never meet!  Ron then chose to serve his country in the Coast Guard as a Lieutenant (j.g.) from 1967-1970.  He trained in Yorktown, Virginia and competed on the rifle team in Miramar, CA, placing fourth among rifle teams from all branches of service before deploying to Honolulu, Hawaii.
After his time in the service, earning his MBA from the University of Washington in 1972, and playing semi-pro football as tight end for the Seattle Titans, Ron elected to work at Boeing, where he quickly rose through the ranks in defense (Seattle), electronics (Dallas) and operations (Everett & Renton).  His manufacturing processes were named best in the nation in The Five Pillars of TQM: How to Make Total Quality Management Work for You (Creech, 1994).  At the height of his career as Director of Operations, 747/767, he managed over 12,000 employees and received praise from colleagues and reportees alike for his honesty, fairness, loyalty, work ethic and ability to remain level-headed in crises.  His family always felt exceedingly safe traveling on the planes built in his factories.
In his downtime, Ron adored being outdoors in the Pacific Northwest, hunting, fishing orboating.  He and his cherished wife, Ann, spent years traveling the coast of Western Washington and Canada with their boating club, The Rat Pack.  He remained active and fit playing senior competitive softball in the Associated Softball League (Palm Desert, CA), Puget Sound Softball League (WA), and Senior Softball USA (national leagues) from the time of his retirement until his head injury in 2019.  After he was unable to play, he always yearned to get "back in the game" and support his teammates.  His belongings were full of notes from coaches on how to play better, and that's what Ron always strove for: to do better.
Ron was devoted to his church, the West Side Presbyterian Church in Seattle, where he was adeacon.  He felt so blessed to be able to lift up his fellow parishioners with prayer andsupport, decipher the Bible and offer advice and consolation where needed.  He also lovedto read the Bible nightly with Ann and discuss their thoughts on passages.
Ron and Ann adored traveling to Mexico, Hawaii, and Southern California to visit the grandkids whenever Ron's softball schedule would allow, and they shared many wonderful memories with Ann's lovely sisters, their respective husbands, and Sasha's family.
Ron was preceded in passing by his father, sister and stepson (Jon).  He is survived by his wifeAnn, mother Marjorie, daughter Sasha (Craig), stepchildren Chris (Debbie) and Pam (Brad),five nephews, seven grandchildren including grandson Becker and granddaughter Ellia, and twogreat grandchildren.
In lieu of flowers, donations can be made to your favorite charity in Ron's name.