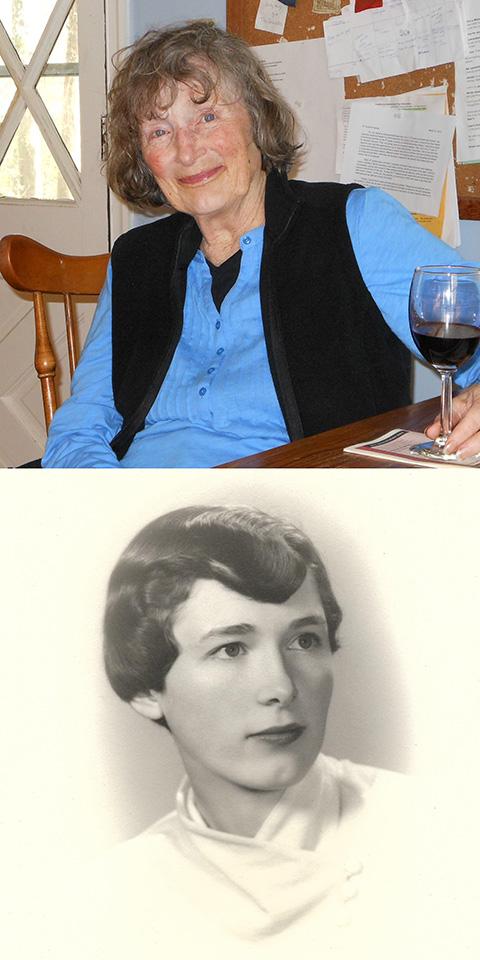 Mary was born in Palmerton, Pennsylvania, to Charles Edward and Ellen (McPherson) Barnett. She grew up on the edge of the Poconos; the eldest of three daughters. Mary ventured off to Hiram College in Ohio where she met (Dapper) Dan Calvin from Seattle. Following their wedding in 1954 in Palmerton, they enjoyed a honeymoon road trip across the country. As they drove into Seattle, Mary dropped Dan off downtown to work at the bank and drove herself on to her in-law's place in Fauntleroy where their first "home" was the April Ann, a cruising vessel which was then moored in Fauntleroy Cove.
Mary and Dan had many more adventures together including living in Anchorage and on Capitol Hill, raising five children, entertaining nine grandchildren, making countless trips to the ocean and road trips in various Volkswagens, tent-camping with all five children, many ski vacations, hosting Camp Grandma, and nightly beach fires and sunsets. When her children approached their teenage years, Mary sometimes wrote a long list of rules for their summer vacation including "No swimming in long pants" and "Do not take knives from the kitchen without permit." Mary accommodated Dan's schedule as his community involvement included Rotary, Camp Colman & YMCA Camping Programs, the Kenney Home and more. A devoted daughter-in-law to Mildred Calvin, she enabled Mildred to stay in her home as long as possible. Mary advocated and cared for Dan during his battle with liver cancer until he passed in 2003.
Mary was a generous and loyal friend, always welcoming anyone to the beach, serving at Fauntleroy Church, and faithful to art and garden club. She loved to give thoughtful gifts, document history through photographs, and gather family around herself over a jigsaw puzzle. Mary enjoyed traveling with treks to Europe, Hawaii, the Keys, Canada, and Argentina, but her most favorite place was her home of nearly 60 years in Fauntleroy Cove where she could hunt for beach treasures, hear the gentle waves, and smell the salt breeze.
Surviving are children: Judy (Carl) Mundt; Kimberly (David) Phillips; Chuck (Julie) Calvin; Doug Calvin; Annie (Rick) Kendall; sister Ann Barnett and in-laws, Charles Calvin, and David & Renee Calvin.
She was grandma to 9: Madeline, Lindsey, Elizabeth, Lucas, Daniel, Chase, Philip, Ben, and Arthur and great-grandma to 5: Rhoda, Marlowe, Hunter, Hudson, and Jack.
Mary was preceded in death by her husband, W. Dan Calvin, her parents, CE and Ellen Barnett; her sister Judy (John) Clarke and in-laws, Dr. WE & Mildred Calvin, Alice Calvin, and Warren & Joann Calvin.
In lieu of cards/flowers, consider donating to Emerald City Pet Rescue or NPR Bird Note in Mary's honor.