A Cleaner Alki: Eagle's Nest encampment area is cleaned out
A Cleaner Alki: Eagle's Nest encampment area is cleaned out
You can join weekly clean up effort around West Seattle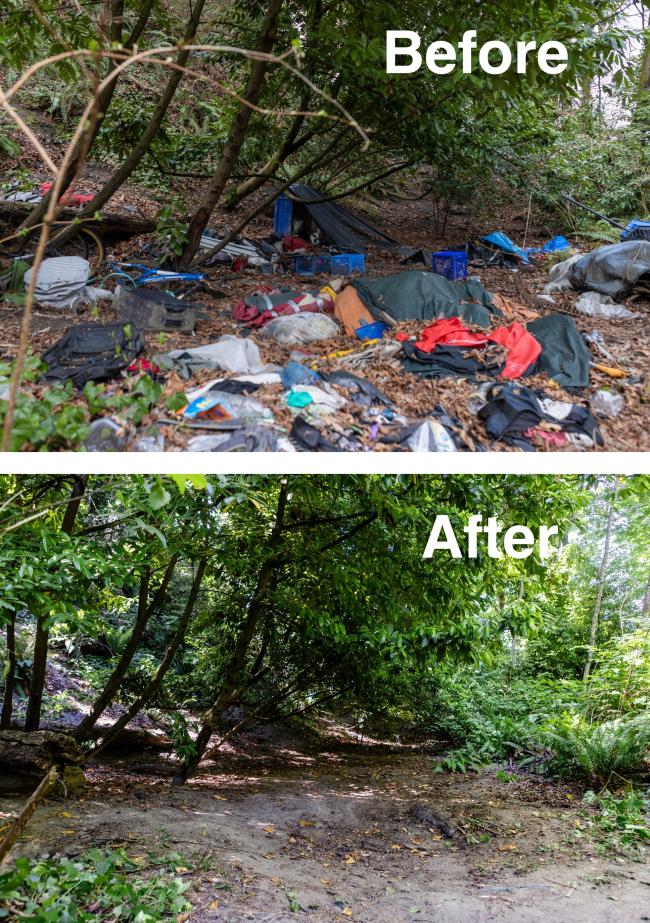 Mon, 06/05/2023
Erik Bell is the primary organizer of a group of West Seattle activists devoted to cleaning up litter, garbage and more. A Cleaner Alki is the name of the organization that comes together weekly to concentrate their efforts on beautifying this part of our world. He posted on social media about his joy on Monday when he realized that an area of hillside, just west of Harbor Ave SW between Salty's on Alki and the entrance to Jack Block Park hsd been cleared out. It had been an encampment for months and A Cleaner Alki had intended to clean it up but were told by the City to wait. Bell posted this:
"...After dropping off the stolen items I found this morning I decided to drive the beach home and as I was rounding the corner at Salty's I saw an army of city and contractor vehicles starting to load up and head out along Harbor Ave. I had an idea of what was going on so hopped out and confirmed with some workers that they had been up cleaning the Eagles Nest area in the Greenbelt above Salty's, I was so stoked! 

Conrad and I discovered this mess last winter when scouting for cleanups on a 17 degree day and found someone sleeping under a tarp nearby. We have been hauling stuff out ever since and had plans to take it all out on April 1st with a group of 75+ people when the city caught wind of it and asked us not to. I can't say I've been perfect in that request but I have been practicing patience and giving the city the benefit of the doubt to see if they'd come through. I'm happy to say today they did!

This hillside is one of the most sacred spots in Seattle in my mind being directly under the giant Eagles Nest that has been there for decades, I'm thrilled it got another lease on life today. There is still a good day's clean of micro trash up there I'd love to finish off and stay on top of, but this is a huge win for our local environment and for everyone who had ventured up there with me this past year to start this important work. 

Thank you Parks & Rec and your partners for your work up there too, what an amazing turn of events!"

 

Bell also provided some background information about the group and how people can get involved.

Born as a Saturday morning beach cleanup group, A Cleaner Alki strives to make an impact throughout West Seattle neighborhoods and beyond with a wide range of weekly cleanup opportunities; Beaches, parks, schools, residential neighborhoods, business junctions, illegal dumping areas, bin pickups at RVs and encampment cleanups. Explore our organized group events or our daily, self-led Block Drops by joining us on Facebook here or on our website.

Meet like-minded neighbors seeking to create cleaner, safer spaces and a culture of environmental stewardship–building community through purposeful action and fellowship.
Over the past 2 years our combined Block Drop and Event efforts have helped remove 28,000 pounds of trash out of the community with help from 3,000+ volunteers giving over 4,000 hours of their time. We partner with Seattle Public Utilities' Adopt a Street program in reporting and removal of collected trash. A daily Block Drop station will be set up at the Statue of Liberty from 9am to 6pm all Summer long and we'll be launching a new initiative this week to work on overgrown areas of our community. Reach out to help design a unique cleanup event or Block Drop in your neighborhood. We've recently partnered with Starbucks, Filson, PricewaterhouseCoopers, The Ohio State University and Pacific Environment on a range of cleanup types over the past two months. Together we can,

A Cleaner Alki (By and By).