Inspiration from Garden Show
Inspiration from Garden Show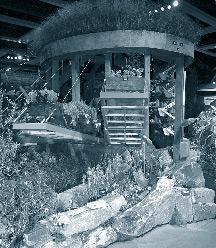 Thu, 07/21/2005
I go to the show to see the display gardens, and I usually buy a preview party ticket so that I get to see and photograph the gardens sans crowds. I also usually work at the show, so I get to see the display gardeners several times. Since I did a show garden myself last year, I am a tiny bit less critical that I used to be. It is a ton of work to create a show garden, but now that I have walked the said mile, I feel a bit more entitled to my constructive criticism.
As usual, I liked bits and pieces of many gardens. One exception I loved in its entirety was "Feel the Heat" by Seattle Tilth and the Seattle Post-Intelligencer. Their colorful round greenhouse with the living roof and brightly painted recycled windows was not only an excellent example of sustainability in the garden, it was downright pretty. Why they only ever win silver medals, I'll never understand!
My favorite exhibitors in the marketplace included Mosswood from Kirkland, a retail store specializing in garden gifts. Bright and colorful, their stuff is always fun. Fremont Gardens had yet another successful storefront in the marketplace, with inexpensive oilcloth flying out of the booth. And DIG Nursery from Vashon Island sets the bar for cool with their mosaic slugs and brightly colored birdhouses.
There were several container gardens in the breezeway that I enjoyed. Wendy Welch's contemporary black pots were stunning and a welcome break from all the naturalism floating around in the display gardens. The cast iron gnomes in Robyn Cannon's "Tribute to Rosemary Verey" were fantastic! Maggie Green's container was well-executed, as was DIG Nursery's.
In all, I was a bit disappointed in the show. None of the garden creators really pushed the envelope, as they say. The gardens that did try to present something new were almost humorous in their pretentiousness. At one display garden I received a lecture on the various metaphors and higher meanings in the garden, including something about how one piece of sculpture was meant to ground my chakra.
Display gardeners receive a small stipend for participating in the show, and this year, rumor had it that the stipend had shrunk. This makes it even harder for up-and-coming artists to participate, or for garden creators to experiment with new, potentially expensive designs. I'd love to see more artists from all over the world participate in our show, but that's not going to happen without the proper funding.
I hope Salmon Bay finds a way to reinvigorate the show, as I have always maintained that the Northwest should be driving the horticultural industry, not waiting to be told what's cool or trendy. So that means it's up to you, gardeners!