Boys Basketball SLIDESHOW: Kentridge stops Federal Way
Boys Basketball SLIDESHOW: Kentridge stops Federal Way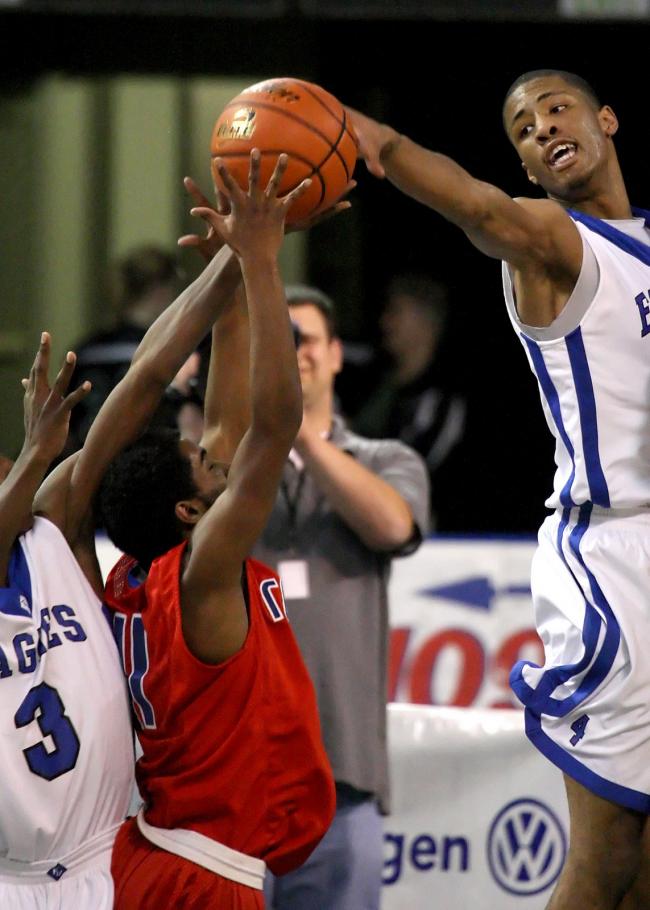 Photos by Kurt Howard
Mon, 02/13/2012
KENT - In a game that Federal Way never led, Kent-Meridian used its Royal treatment to stop the Eagles, 46-39, to gain the South Puget Sound League No. 3 seed to the Class 4A West Central/Southwest Bi-District tournament from the SPSL boys basketball tournament at the ShoWare Center on Friday, Feb. 10.
"We just had a tough time scoring," said Eagle head coach Jerome Collins. "This is a young team and this is going to happen. We needed to come up with more loose balls. This was good challenge and we'll keep moving forward."
Despite three ties in a 7-7 first quarter standoff, the Federal Way shooters were just a little off as 8-of-29 shooting from the field in the first half corroborated. Kent-Meridian pulled way to lead by seven points twice in the second -- including 20-13 with 47.3 seconds left in the half - before D'Londo Tucker's trey near the end of the quarter kept the Eagles within 20-16 at the half.
The Royals (15-7) opened up their lead to 27-18, but Tucker scored five straight points to bring Federal Way within 27-23. KM led 29-23 after three quarters.
After Brayon Blake opened the second half with a basket, Federal Way (15-6) was within 29-25. The Royals regained momentum to build the lead up to 37-25 and created the biggest lead of 44-31.
Federal Way kept battling as Malik Montoya drained a three-pointer followed by a Tucker three and Blake's two free throws to close the gap to 44-39 with 10.5 seconds remaining in regulation.
Blake paced the Eagles with 11 points and seven rebounds while Tucker also had 11 points. DeeShawn Tucker closed with 10 points.
Gary Bailey notched 16 Royal points and teammate Mike Banks added 11.