Area man plans Elliott Bay Bridge to replace Viaduct
Area man plans Elliott Bay Bridge to replace Viaduct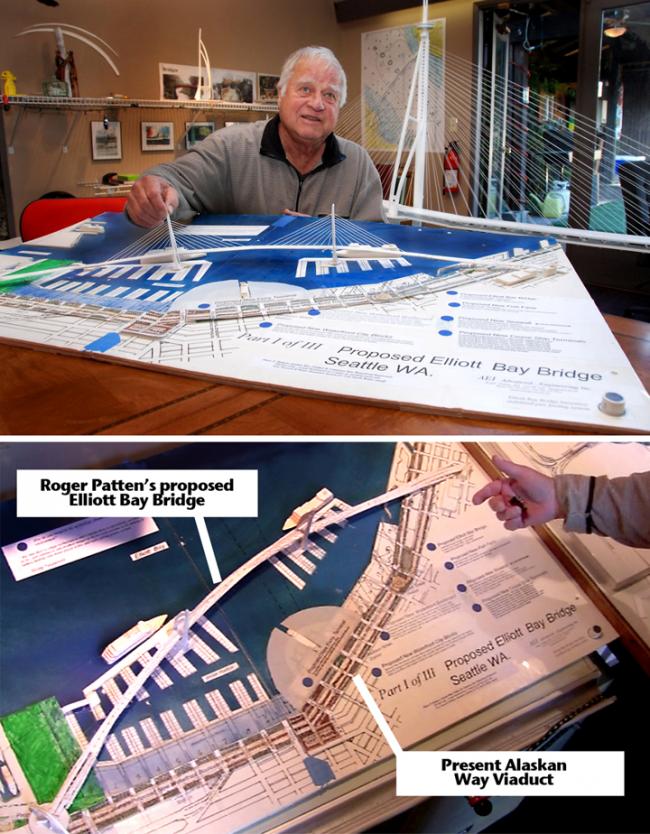 Patrick Robinson
Thu, 12/10/2009
Architect Roger Patten has a dream – to save Washington and Seattle $1.8 billion.
He said he could accomplish this with a relatively economical, 2.5 mile long "Elliott Bay Bridge" design he created in his Burien home studio.
His cable-stayed bridge would be an alternative to the deep bore tunnel and would arc out through Elliott Bay with six traffic lanes and two pedestrian and bicycle lanes. Light rail could also glide across the bridge.
His two on and off ramps are placed west of Safeco Field and west of the Battery Street Tunnel.
Patten has a patent pending on his "buoyancy-stabilized pier."
"This pier is new technology, a type of floating pier," said the 77-year-old, who has been licensed for 45 years and specializes in residential designs in his AIA Architecture company.
"An ordinary bridge's footing in the bay would require a depth of an 80-story building to get through the sediment and hit bedrock, and you'd need to dig two piers," Patten said.
"My design is two cement piers, 200 feet in diameter, embedded just 50 feet under water and resting on the sediment," he said. "A model would first undergo shake table tests for earthquakes and tank tests using soil sediment and a pool of water."
According to the official description of his patent proposal, "The pier structure includes a chamber filled with air or other buoyant material such that a buoyancy force is produced. The chamber is sized and filled such that the buoyancy force offsets at least 80 or 90 percent of the weight of the bridge that is supported by the pier."
"New technology opens up the door to planning," Patten said. "This bridge will move the noise of traffic away from waterfront. Once the bridge was completed, the Alaska Viaduct traffic would immediately switch over so there would be no disruption during construction. Then the viaduct would be eliminated and a non-commercial grand boulevard created."
Patten said he promises no tolls and proposes an environmentally friendly add-on.
"The seawall could be rebuilt with a filtering and retention system to collect polluted surface water of Seattle," he said. "When it rains heavily now, the sewer system is overloaded and dumps sewage and other pollution into the bay."
Patten hopes to show models of his Elliott Bay Bridge to Mayor-elect Mike McGinn. He said he believes McGinn would be receptive to his tunnel alternative.