Highline area tennis shut out
Highline area tennis shut out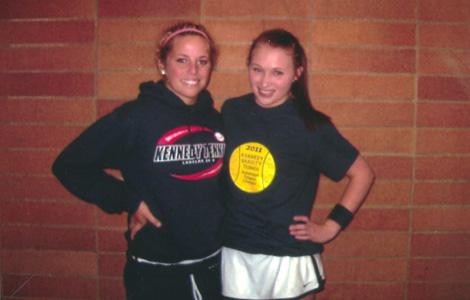 Photo by Gerardo Bolong
Mon, 05/23/2011
SPANAWAY - Highline School District high school tennis players were shut out in their efforts to earn state positions out of the Class 2A West Central/ SK Bi-District tournament in closing action held at the Sprinker Recreation Center Courts on Saturday, May 21.
Junior Sameer Vohra of Evergreen (White Center) stroked it out with Micah Roos of Port Angeles in a winner to state as the sixth seed, loser out match up in boys singles.
Vohra started quickly in the first set, holding his own serve before breaking his opponent's serve. On the verge of going up 3-0, the Wolverine athlete faltered and lost his serve. Vohra fought hard to break back, but the Roughrider player struggled hard and held serve. From this point on, Roos rushed to four consecutive games and a 6-2 first set win.
In the second set, Vohra was broken twice in the first three games to trail 0-3. The players exchanged service breaks until Roos held a 4-2 advantage. Roos then held serve before taking another service break for the game, set (6-2) and match.
Throughout the encounter, Vohra was guilty of unforced errors against his hard hitting foe.
"Once I started losing, he just started to be more consistent," said Vohra. "I started making more errors and a lot of my shots were easier to get. When I got the easier balls, I missed. I've got to get back to the court and practice. I need to work more on my backhand, strategizing and game construction."
Before this match, Vohra passed Jerry Landrum of Klahoywa, 6-0, 6-0, ahead of a 1-6, 1-6, loss to Luat Le of Interlake. Vohra then eliminated teammate Michael Nguyen to reach the consolation finals.
Nguyen began his tournament with a loss to Mallory Maloney of Sequim before being ousted by Vohra.
The Highline area's other district representatives were the girls doubles team of Janice Huang and Tilly Kit of Evergreen.
Huang and Kit ran into tough competition immediately when Wolverine teammates Catherine Le and Mary Vo escaped with a 6-7 (4-7), 7-5, 6-2 round of 12 win. Huang and Kit then were knocked out of the tournament by Alexis Corn and Laney Boyd of Port Angeles.
Chelsea Bucklin and Amy Yasutake of Interlake sent Le and Vo into the consolation bracket, 6-3, 6-1, ahead of a match against Yee and Skanki of North Kitsap. North Kitsap then ousted Evergreen in two sets.
"It was all a good thing for the girls," said Wolverine coach and tournament director Doris Burdin. "They learned a lot and had a good experience at this level."
In boys doubles, North Kitsap's Sebastian Ford and Alex Olson dropped Jason Nocom and Brian Quach of Evergreen, 6-4, 6-3. Hayden McCartney and Al Konopaski of Port Angeles dropped the hard fighting Nocom and Quach 6-4, 7-6 (7-5) to close out the tournament for the Evergeen duo.