SLIDESHOW: Undefeated local heavyweight "Vicious" Vincent Thompson wins again
SLIDESHOW: Undefeated local heavyweight "Vicious" Vincent Thompson wins again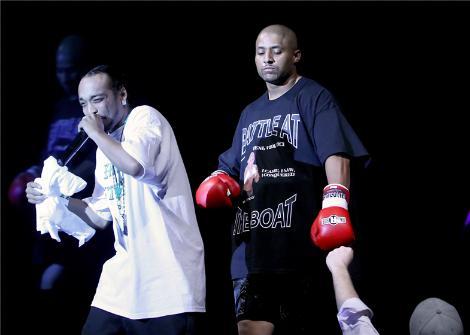 Photos by Kurt Howard
Tue, 06/07/2011
SLIDESHOW: Click on the above image to see the sweat and the blood in Kurt Howard's dynamic photos of this awesome fight.
TACOMA -- Wily and wise Kelsey Arnold goaded and taunted "Vicious" Vincent Thompson, hoping to coerce the young fighter to lose his cool in their pro heavyweight bout Saturday evening at a packed Emerald Queen Casino.
Thompson would have none of it.
Instead the Federal Way boxer stuck to his game plan, using a crisp, punishing jab and hard body punches to keep Arnold at bay, winning for his eighth consecutive time as a pro in a unanimous six-round decision in the main event.
Arnold (4-8-2, KO), who has faced 11 fighters who were then unbeatens, played cat-and-mouse in the early rounds, letting Thompson come to him.
"I wanted to feel the power and see how hard he could he hit," said Arnold, his nose still bloody after the fight. "He couldn't hit hard. He never hit me, he didn't hurt me."
Arnold let his opponent know this by sticking his tongue out at him after any series of good punches Thompson threw, as if to say, "Is that all you got?"
Thompson, unruffled and refusing to let Arnold get in his head, stayed the aggressor throughout the fight. He methodically fired his jab and smothered Arnold with hooks to the body and head when he saw Arnold trying to counter with his right hand. He had the crowd roaring near the end of the first round after firing a barrage of hard hooks and had most fans there hoping for another knockout, like the two they had seen in prior bouts on the Battle of the Boat 82 card.
"He stayed nice and calm and took what was given to him," said Normandy Park resident Sam Ditusa, Thompson's cutman and coach. "He didn't sit there and try to slug it out with the guy. Why give the other guy the only chance he's got by trading punches?"
Arnold got more active in the third round, but couldn't put together any series of combinations or land his counter right hand. By the fourth round he was sucking wind.
"He was faster and I couldn't time him right with my right hand," said Arnold, a Lexington, Tenn., resident. "If I was in a little bit better shape, I would've done better. Thompson is OK (fighter), unless he gets in with a puncher, someone with power. Thompson's power ain't there."
Thompson (8-0, 2 KOs) himself got a little tired too. He was throwing most of the punches.
"I kind of got winded in the last few rounds," he said. "I thought I could get him when I saw he was bleeding. I wanted to go for the kill and rock the crowd. But I was still thinking smart and dodged his his power right hand and kept stepping to my right instead."
Thompson recognized Arnold's style almost immediately, having fought the same kind of lay-in-wait counter puncher before, Charles Ellis. Thompson beat the previously undefeated fighter convincingly in December.
"I saw it coming (the right), I saw him loading up," Thompson said. "I was saying to myself, well, let me beat him to the punch, keep trying to hit him with a barrage of punches and not let him get set.
"He (Arnold) told me I hurt him. I was trying to hurt him but he just wouldn't go down. He was real tough. My dad (Calvin Thompson, of Federal Way) told me to just kill him with my speed.
"But, first and foremost, I thank God for this win."
Thompson sailed through the last round, predominately scoring with his jab.
"When he saw he couldn't put him out of there, he just coasted the last round and took the win," Ditusa said.
Judges scored the fight 60-55 across the board. Thompson dominated in all four categories of the scorecard: effective aggression, ring generalship, clean and hard punching and defense.
"His defense was strong," Ditusa added. "I mean, Vince never got hit with a solid shot the whole time. That's what we work on.
"Vince is a work in progress. If everyone stays patient and he continues to do the things he does and keeps working, we're going to have a helluva heavyweight a year from now.
"It's not an overnight deal. It's a marathon. We have a long-term goal and we have time."
Thompson's next fight date is yet to be determined.
"It'll be in August or sooner, " said coach Jack Stafford, a West Seattle High grad. "We are looking."'
"I'm so proud of him (Vince)," he added. "Arnold was a big guy. He was no pushover. Vince's jab was fast tonight. It was money."
In other bouts on the six-fight card at the "Battle of the Boat 82: Fight Night at the Playboy Mansion," put on by Brian Halquist Productions:
Lightweight Nate Serrano (3-0) defeated Randall Corpus (0-1) in a four-round battle between Yakima fighters; Coquitlam, B.C.'s Shane Andresson (11-3, 7 KOs) beat Tacoma's Jonte Willis (7-1-1, 3 KOs) on a fifth-round TKO in heavyweight action; Anacortes heavyweight Sylvester Barron (2-1-0) won in a unanimous four-round decision over Reno's Ija Flappingeagle (3-3-1); Seattle's Rob Diezel (6-4-0, 3 KOs) scored a second-round TKO over Salem, Oregon's Aaron Schapp (2-1-0, KO); and Atlanta's Gerald Fisher (1-2) defeated Bend's Nichoulas Briannes (1-7) in a junior welterweight bout.