National perseveres against Seattle Central
National perseveres against Seattle Central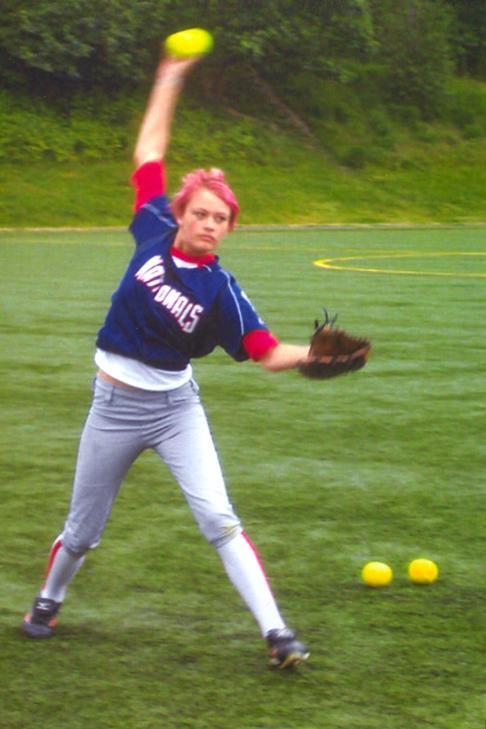 Photo by Gerardo Bolong
Tue, 06/21/2011
Valley Ridge Field No. 2 in Sea Tac was the scene as the South Highline National Blue outlasted Seattle Central 18-11 on Tuesday, June 14, to qualify for the Wednesday District 7 Little League Majors Tournament of Champions fastpitch softball title game against Pac West.
According to National manager Shawn Metzger, the ability to persevere was etched by his team's character and composure.
"I'm proud of my team," he expressed. "All the girls have learned so much. Sticking together and playing as a team got them there. This was a tough game. Any team that made it to the Tournament of Champions had the chance to make the championship. We were just hanging in there, staying focused and not giving up."
In the beginning, the encounter showed close competitiveness.
South Highline National Little League opened up the game with three runs with one out. Alert base running combined with walks and passed balls keyed the surge.
Seattle Central came back in similar fashion with four runs in the home half of the same inning, but the Blue battled back in the top of the second inning. Shelaine Lorenz and Rylee Humphries led off with back-to-back walks and later scored on a two-base throwing error. Aggressiveness on the base paths enabled the Normandy Park girls to tag on three additional runs for an 8-4 margin.
SHNLL right-handed pitcher Chey Steiners struck out two batters and induced a ground out in a sequence of four SC batters faced to record a scoreless Seattle home at bat to maintain a four-run Blue lead.
In the third inning, National notched five more runs on the strength of good batting eyes and a clutch single from Humphries.
Despite the South Highline National 13-4 command, Seattle Central refused to fold and chipped away with two runs of its own in the third.
Steiners scored a single run in the National fourth to bring the lead back to 14-6 only to watch Seattle Central charge back into the fray with five fourth inning runs on the strength of Sivan Tratt's inside the park, grand slam home run.
With a pair of SC runs already deposited, only three of the grand slam homer runs counted due to the five-run limit per inning. However, South Highline was truly under the gun, holding only a 14-11 advantage after four innings.
The two-hour drop dead rule ended the match up after South Highline had scored four additional runs in the top of the fifth inning.
Experience in close games served the Nationals well in this face off.
"It's the hits that we do that helped us be successful," said Steiners. "We do our best and have lots of fun with our teammates. We're used to playing in these kind of close games."