UPDATE: Tournament of Champions softball
UPDATE: Tournament of Champions softball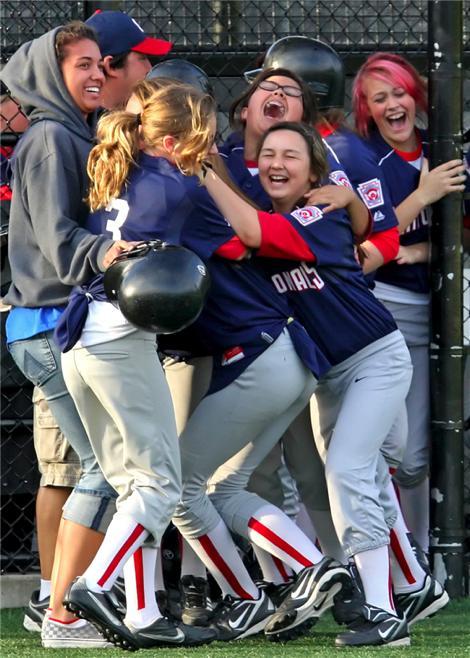 Photo by Kurt Howard
Tue, 06/21/2011
(Update: Click on the above picture to see nine more exciting photographs of the game taken by our crackerjack photographer Kurt Howard.)
Blue on Blue.
It was an all-blue matchup as the PacWest Blue Thunder team clashed with South Highline National Blue at the Valley Ridge playfields next to Tyee High School.
At stake in the Wednesday, June 15 game was the District 7 Major fastpitch softball title for regular season charter championship teams, and it was the Blue team that prevailed over the Blue Thunder, 7-6.
PacWest led by a 2-1 score in what started off as a tight defensive game and built a 6-2 lead in the fourth inning before National's big comeback.
"It was very exciting," said South Highline National manager Shane Metzger of the come-from-behind game that wasn't settled until the final out. "Just stay motivated. My big thing is to play as a team. I told them to always come back and hold your head high. It's just playing together."
PacWest opened the scoring in the bottom of the first inning when Jordan Miller tripled and scored on a Cheyana Steiner grounder.
The Blue Nationals tied it with one run in the top of the second as Natasha Scandiffio singled and came around on a wild pitch, a stolen base and a Kaitlyn McIntosh grounder.
South Highline National got the jump again in the second when Cloe DeBaise hit a home run that took a big hop on its way past the right fielder.
The score remained knotted at 2-2 until PacWest scored four runs in the top of the fourth.
Randi Everts started off the rally with a one-out bunt single before Grace Williams launched a home run to deep right to make it a 4-2 game. Scandiffio then singled and scored when Melanie Ochoa hit into an error. Ochoa stole second and scored on a base hit by McIntosh. Coryn Felix scored McIntosh on a two-out base hit.
South Highline National battled back to tie it with four runs in the fifth.
Miller launched a three-run double to deep left, after Chloe Schlerbeck walked, Sam Saechoa reached on a fielder's choice and Bryanna Flynn walked to load the bases.
Steiner followed with a base hit to bring in Miller.
The Blue Thunder fell silent in the fifth and sixth, however, and the Blue Nationals came up in the bottom of the sixth and final inning.
The first two batters struck out, before DeBlaise won it with a home run to deep right center that rolled all the way to the fence.
National Blue was more than happy to take the win and the championship after struggling early in the regular season.
"We did OK," said Metzger. "We were 50-50, but we won five straight to end it, including two in this tournament. And this team here (PacWest), we did not beat them all year until now."
The four 10-12 year-old Majors teams in District 7 are now combining to form their all-star team before opening the all-star tournament Monday, June 27.
Metzger was assisted by coaches Renee Amaro-Metzger and Tayler Filmore. Players were Jordon Miller, Cheyana Steiner, Alyssa Metzger, Bryanna Flynn, Kaylynn Snedeker, Cloe DeBaise, Shelaine Lorenz, Rylee Humphries, Jordon Ashlers, Chloe Schlerbeck and Hayley Camp.
The PacWest Blue Thunder was managed by Steve Wydick, who was assisted by Frank Scandiffio and Jamie Mecklenburg. Players were Marissa Elliott, Randi Everts, Coryn Felix, Kaitlyn McIntosh, Graciana Mecklenburg, Melanie Ochoa, Sarah Quy, Natasha Scandiffio, Diana Smith, Keikilani Waiau-Bass, Grace Williams and Jenna Wydick.