Seven Seattleites swim Lake Washington to raise money for Africa
Seven Seattleites swim Lake Washington to raise money for Africa
Three Highline High School graduates are participating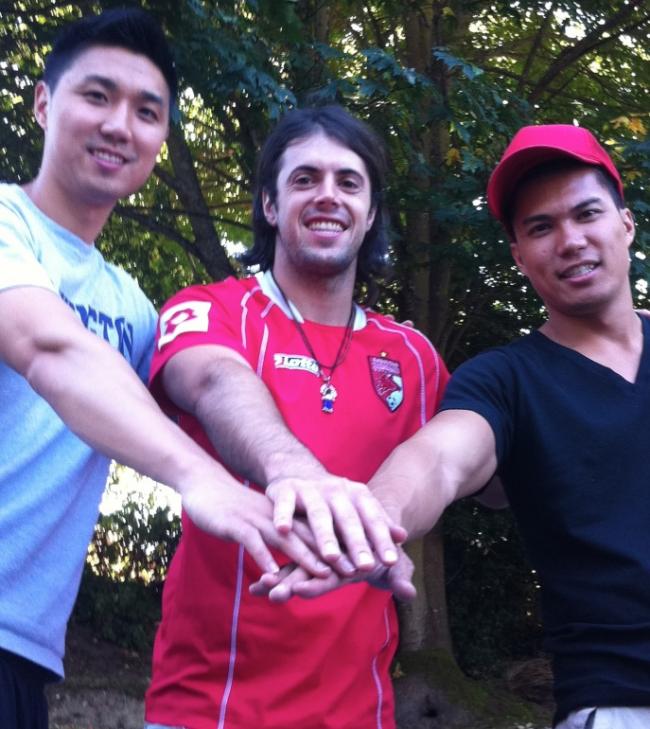 Sat, 08/20/2011
What do an ex Seattle Sounder, model, Boeing accountant, professional break-dancer, University of Washington student, Seattle University student and University of California – San Diego graduate student all have in common? Apart from not swimming well or often, they all have a sense of adventure and are concerned about global poverty.
This Sunday at 10am, seven friends will swim across Lake Washington in order to raise funds for a local nonprofit organization, Angels For Angels.
Angels For Angels promotes social entrepreneurship in two ways: it works with local social entrepreneurs in Uganda and Kenya and partners with them to offer technical expertise via its connection of graduate students and professors at the University of California – San Diego. Beyond that it provides necessary funding so certain projects can start and others can expand. Secondly it works with universities in Uganda and South Sudan, Makerere University Business School and The University of Juba respectively, harnessing the brightest minds within a country to start thinking creatively about what can be done to impact change on their societies. Angels For Angels helps assist with developing the curriculum and teaching a Social Entrepreneurship course, connecting professors and students there with professors and students at UCSD. And then they sponsor an annual Social Enterprise Design Competition at each university, funding the best ideas to get them out of the classroom and into the real world.
Three of the swimmers are graduates of Highline High School.
Jerome Aparis, graduated from Highline High School and went on to help start Seattle's own Massive Monkees. What was a local dance crew grew to win world championships, starring on America's Best Dance Crew and has done so much for Seattle that every April 26th Seattle celebrates Massive Monkees Day. For Jerome "Angels For Angels is a unique opportunity to raise money and help people overseas. I'm a huge fan of advocating positive change. Mikel is a great friend of mine and I fully support his cause. Life is not significant unless you impact people's lives."
Nelson Kim graduated from Highline High School and then went on to the University of Washington. He took his degree and started working for Boeing and has been there ever since. For Nelson "A small change can make a big difference in one's life. I've been fortunate to have help in my life and being able to help the kids at Othora secondary school is my way of giving back."
Mikel Samaniego, a graduate from Our Lady of Guadalupe, graduated from Highline High School and went on to play soccer at Seattle University. From there he pursued his dream of playing soccer professionally in Spain, and now has come back and focused his efforts starting a nonprofit. "I have been fortunate to travel the world because of soccer. I gave up everything and everyone in order to accomplish my dream of playing professional soccer. But I always told myself that when I finished living just for myself, I would do something for other people…and now this is me doing that."
This particular swim is being used to raise money for two projects, one in Uganda and one in Kenya. In Uganda they work with Jane Nampija, founder of The Befriender Centre. It is an organization, the first of its kind in Uganda, to open up discourse on suicide, a normally taboo and unspeakable issue. What was just one woman, is now a team of many, now affiliated with local hospitals. With the help of Angels For Angels, The Befriender Centre will now be opening a toll-free hotline so that anyone who needs emergency and confidential counseling can get it. In rural Western Kenya, Angels For Angels partners with Othora Secondary School and its founder, Fred Nyakwa. Fred wishes to give his students every advantage to go on to the university, and he wants to offer them extra college prep classes at night. But since there is no electricity in the area, this is not an option. With the help of Angels For Angels Othora Secondary School will be buying solar panels and all the equipment necessary in order to light the classrooms at night so that Fred can offer extra college prep courses to his students.
Everyone has their own reason for supporting and swimming. For Jerome Aparis, member of Seattle's Massive Monkees, it came from his trips to the Philippines where he witnessed extreme poverty first hand. For Santa Maria Rivera, ex Seattle Sounder, while he has seen poverty up close in his native Mexico, he welcomes the sense of adventure and accomplishment. And for Mikel Samaniego, founder of Angels For Angels, this swim, "was a way to do something fun and for a good cause."