SLIDESHOW: An athletic event for even the non-athlete
SLIDESHOW: An athletic event for even the non-athlete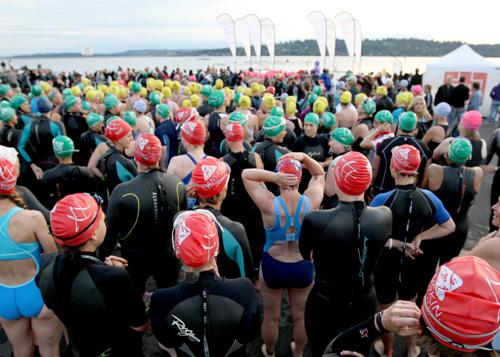 Photos by Kurt Howard
Fri, 08/26/2011
The day had finally arrived. All the work, training and dedication will tell them how prepared they really are. They haven't been training all these weeks not to finish. The soon-to-be triathletes, Wendy Cooney and Bethany McGinn, both 32, and my wife Karen Howard, 51 (only 2 days away from 52) were just 3 of the 3,000 participants in this year's Seattle Danskin Women's Triathlon at Genesee Park held August 14th.
These women met working at McMicken Elementary School in the Highline School District. For some crazy reason they decided to participate in triathlon. This sprint triathlon consists of swimming ¼ of a mile, biking 12 miles and running 3.1 miles.
So where did this idea come from? Wendy told me, "A couple of friends from my MOP's group (Mothers Of Preschoolers) at River View Community Church in Kent said they had done the Danskin triathlon. They also said you didn't need to go fast. One day I was joking with Bethany at school about doing a triathlon and she said OK. A few months had passed when Bethany told me registration was open for signup, then I knew this was for real." How did Karen get into the mix? She told me, "Wendy and Bethany were in the staff room and asked me if I wanted to do a triathlon with them."
So now that they all said yes, how do they get prepared for such an event? While checking out the Danskin Triathlon Series website they found information about Heart Zones Coaching (HZC). That would become the difference between guessing or knowing how to train. Long time triathlete Sally Edwards is the Heart Zones founder and CEO. Sally loves to say "Don't let your life get in the way of your energy, your health" and "There's a better way within your reach."
One thing you may not know is the importance of the transition. A transition is the time spent between each stage of the race. I think transitions are a total waste of time, literally. If you're not swimming, biking or running you're not getting any closer to the finish line. The coaches teach you how to smoothly transfer from one segment to the next. You do it by being organized at your station where your equipment is.
Different triathletes do the transition differently. When transitioning from swimming to biking some may need to change out of a wetsuit, goggles, and swim cap and into dry clothes, socks, biking shoes and put on their helmet. They remove their bike from the rack to head out. After the ride it's time to "transition" before the run. They rack their bike, remove their helmet, change into running shoes. Now all you have to do is run to the finish line and your done, it's that easy, yeah right!
Their eight weeks of training HZC meant everything! Mondays and Thursdays were official training days with their coaches. They would meet at different places to prepare for the different parts of the tri. They would also do things on their own, without the coaches.
The first leg of the tri is the swimming. So how do you get 3,000 women into the water at one tim? You don't. You do it in what is known as waves. Each wave consists of 100 people. Karen's start time was 7:02am. Bethany and Wendy's start time was 7:46am.
The start time had arrived so the women entered the water. Watching 3,000 women coming and going is just crazy! I must say the course is set up for the fans viewing pleasure.
After the tri the times were posted online. Bethany found she had completed her tri in a time of 2 hours, 10 minutes, 46 seconds, Wendy's was in 2:13:09 and Karen's was in 2:37:02.
The winner of the triathlon was 16 year old Emily Tacke of Puyallup in a time of 1:8:24. Rachel Scheiner, 43, of Seattle was second in 1:10:25 with Tessa Greegor, 29, of Seattle placing third in 1:10:48.
I ask Bethany, Wendy and Karen a few questions. First I wondered what was their favorite part. Bethany said, "I liked finishing. I enjoyed the bike ride, the run, encouraging others and the camaraderie." Karen said, "Being able to train prior to the event with Seattle Heart Zones coaching team."
Bethany's least favorite was "going up hills on my bike." Wendy's was the run, "My feet hurt so bad it hurt to take another step. Then they fell asleep and they were fine." Karen's was "having a panic attach during the open water training sessions."
What did you learn about yourself? Bethany commented, "I learned I can do more than I thought I could do. I surprised myself and I enjoyed being athletic." Wendy's said, "That I have a greater source of power than myself. Bethany wrote down a scripture for me and I ended up using it." Karen said, "I have more perseverance than I thought I did. I am capable, strong and determined."
Bethany added "I want to tell everyone this sprint triathlon is doable for anyone. It was incredibly fun and I want to continue empowering these life changes." Wendy said, "Don't let anyone tell you that you can't. All my life people told me I can't do this or that and if I tried I would fail. Even my Doctor said don't do it, that's because of my foot and knee problems during the training." Karen said, "The whole experience of participating in a triathlon was at first overwhelming. The eight weeks of training with coaches and other women gave me the support and confidence I need. The actual triathlon was the most empowering accomplishment I've ever been involved in."