HS Football SLIDESHOW: Ninth-ranked Kennedy wins big
HS Football SLIDESHOW: Ninth-ranked Kennedy wins big
Additional photos from Kurt Howard added on Sept. 8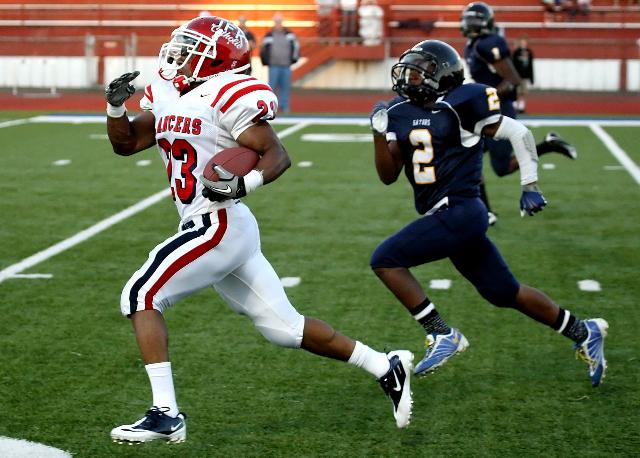 Photo by Kurt Howard
Wed, 09/07/2011
2011 Expectations are sky high for the preseason state ninth-ranked Class 3A John F. Kennedy Catholic High School football team.
Please click the photo above for a slideshow
On Friday, September 2, at Federal Way Memorial Field, the Seamount League Lancers looked the part, unleashing destruction, in a 47-6 thumping of a game South Puget Sound League Decatur Gator squad.
Lancer head coach Bob Bourgette was pleased with the opener.
"The effort was really there," he said. "It's always good to win the opener. With a large number of young players, the mistakes we had can be corrected. It was good to see them play against a physical team. We need to work hard and we can really accomplish a lot of things so we can play the way we do. As a team, we really played hard on both sides of the ball. I was pleased with our offensive line play and the way (UW commit on defense) 6-3, 195 pound Jason Thompson at quarterback ran the offense."
Thompson also shined at safety. Kennedy is poised for a run at state with six starters returning on offense and seven back on defense from last season's 6-0 Seamount and 7-0 overall squad.. Impact newcomers 6-7 Dez Thompson at 303 pound and M.J. Jenkins, 6-3, 320, add to the the offensive and defensive lines.
The Lancers drove 67 yards in 16 plays to go ahead 7-0 as 6:53 showed on the scoreboard clock. Ian Nobmann negotiated the final yard by slicing through right tackle.
After a Decatur long snap soared over the punter's head, Kennedy took over on the Gator nine-yard line. Thompson quickly found Drew Thompson off play action for the touchdown. The extra point had the Lancers rolling at 14-0 with 5:48 left in the quarter. Prescott scored on a 39 yard counter left and Kennedy was up 20-0.
This pattern held for the entire first quarter before the teams battled on a more even keel the rest of the way.
Nobmann finished with two touchdowns and D.J. Hardy with one as additional components of a speedy JFK running attack.
Kennedy methodically opened and found wide openings in the Gator defense while also creating havoc from its defense in a 27-0 first quarter domination that rose to 33-0 in the third quarter before ballooning to a 47-0 margin with a pair of touchdowns during the third quarter.
Orion Prescott tallied four touchdowns - including a 60-yard romp in the second quarter - behind a potent and well directed Kennedy Catholic offense that was also opportunistic with the few passes it threw.
With substitutes seeing considerable action, the Gators gained possession in Lancer territory after recovering a fumble on the Kennedy 40. Abrahan Ferrell-Logan play faked a hand off to a runner and found a streaking Michael Klavuhn down the middle for a 30-yard touchdown pass with 2:50 remaining in the fourth quarter, but the PAT kick was blocked.