Lucky Burien boy tops police blotter
Lucky Burien boy tops police blotter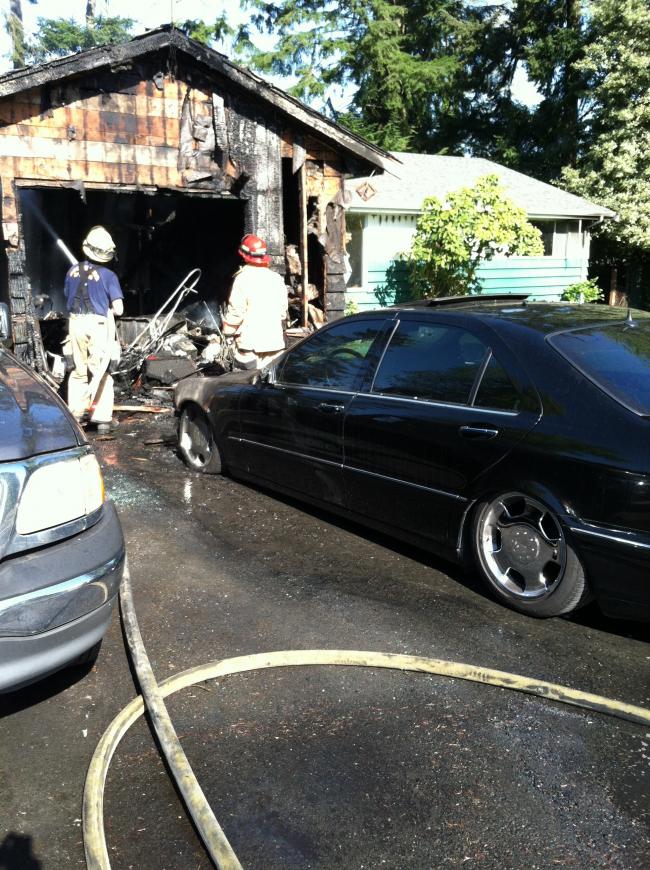 South King Fire & Rescue photo
Mon, 05/21/2012
Burien boy almost swept over large waterfall
A 13-year-old Burien boy almost got swept over Wallace Falls, a large Snohomish County waterfall, May 9 and had to spend the night perched on a rock. The boy was hiking with his father and a friend when he slipped in the river and was swept over a 10-foot waterfall. He made it to a rock off shore where he was later rescued.
During a rescue attempt, a responder fell into the river from a helicopter but was saved by his safety line.
The boy was checked out by a medic but did not need to go to a hospital.
Former firefighter arrested in Burien for assault & domestic violence A former Department of Public Safety firefighter, Alan Santos Aguon, was arrested in Burien for domestic violence May 10. He has been in King County jail since. He was charged with two counts of assault with a dangerous weapon and domestic violence harassment. His bail was set at $500,000.
The former firefighter allegedly attacked his wife and one of his children with a chair. Aguon is the same firefighter who refused to take a lie detector test in the investigation into the disappearance of sisters Faloma and Maleina Luhk. Aguon's wife is related to the Luhk sisters, 11-year-old Faloma and 10-year-old Maleina. They were last seen in As Teo, Saipan on May 25, 2011, according to Saipan Tribune online.
Des Moines garage fire Crews fought a garage fire of a Des Moines home Sunday morning, May 13. Officials ials said there were reports at 7:57 a.m. of heavy smoke and flames at a one-story house in the 20800 block of 4th Place South.
Fire departments from two South King fire stations in Des Moines were assisted by the SeaTac and Burien fire departments.Two men were inside the home, but evacuated safely, were treated at the scene for smoke inhalation and were released.

Suspected SeaTac squatter shot in buttocks
A man in his 20s was shot in the buttocks by a neighbor after a dispute over squatting in a vacant home.
The incident happened about 5:45 p.m. Tuesday night in the 3100 block of South 144th Street in SeaTac. The neighbor, 66, heard noises next door in the vacant house and went to investigate.
That man refused to leave and the neighbor went back to his house and armed himself with a shotgun, then returned to again tell the younger man to leave, according to investigators.
There was a struggle, and "apparently during the struggle the suspect decided to take off running," West said. "The homeowner tripped and shot him in the buttocks.
The man in his 20s was taken to Harborview Medical Center where he was treated for a birdshot wound. His injuries were not life-threatening.
"It's always better to pick up the phone and call us," King County Sheriff spokeswoman Cindi West said. "It could have been a much different scenario if the suspect was armed."
SeaTac motel room smell not toxic
Hazardous materials teams from the Port of Seattle and the SeaTac Fire Department have determined that possible hazardous materials in the 18400 block of International Blvd. did not pose a danger to the public.
Two King County Sheriff's officers initially investigated the call on the sixth floor of a local hotel near Sea-Tac Airport May 15. An airborne irritant and smell made them quickly leave the affected hotel room, shutting the door to isolate the problem. One hotel staff member was also exposed. All three were doing well and did not require medical assistance.
The sixth floor of the hotel was evacuated as a precaution, though none of the other floors were affected.
Hazardous material technicians have determined that the hotel room was not being used to manufacture drugs. A small amount of drug use paraphernalia was found in the room. Air monitoring test found no indication of any lingering irritants.
The hotel room and premises have been turned back over to the hotel staff. No arrests have been made in this case and the room's occupants have not been located.