New ZZ Top tour features local talent
New ZZ Top tour features local talent
Kennedy High School grad Darci Carlson appears on screen as band performs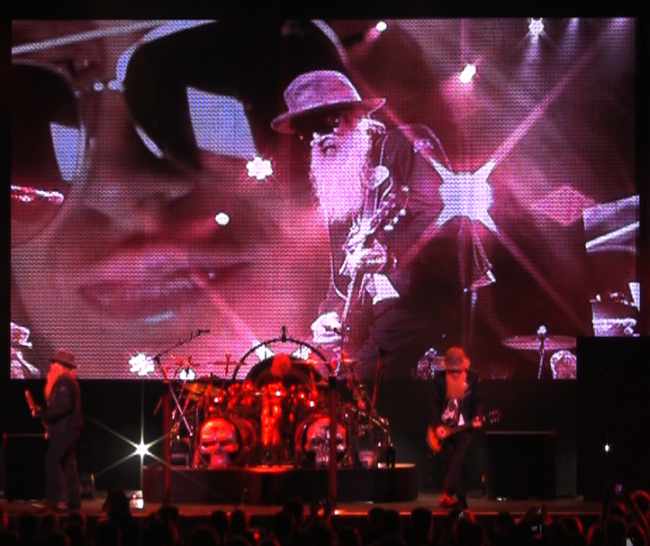 Photo by Jamie Burton Chamberlin
Mon, 07/09/2012
West Seattle Filmmaker Jamie Chamberlin, who toured nearly 70 shows in Europe and the States with legendary rock band ZZ Top in 2008 is at it again. That project, released October, 2009, produced the DVD set "Double Down Live" spotlighting the iconic bearded bad-boys Billy Gibbons, Dusty Hill, and the beardless Frank Beard performing live, plus behind-the-scenes footage.
This time, Chamberlin filmed what concert-goers see projected behind the band as it performs, called "backline screen content". His work is featured throughout the 70-minute, 15-song set list on ZZ Top's current "Gang of Outlaws Tour" which began May 25 in Manchester, New Hampshire and runs through Sept. 16. They hit Portland Aug. 22, Spokane Aug. 25, then Mountain View Plaza at Snoqualmie Casino Sunday, Aug. 26. (Although their website does not list their Snoqualmie concert yet.)
The band has been together since 1969.

"Back in April I was contacted by Billy (Gibbons) who said the band was going to redesign the backline screen content for the tour," said Chamberlin. "On May 4, I flew to Houston for four days to consult with them. I scripted out ideas he had for each song on their set list. They went into their back catalogue, and so far they've added two rare songs out of their older catalogue, 'Vincent Price Blues' and 'Heaven Hell, or Houston'. They also added some selections from 'Texicali', their recently-released 4-song digital download. It's kind of a teaser to their upcoming full-length album.
"Billy's most comfortable creative setting, I think, is a Mexican restaurant," said Chamberlin. "We basically scripted out the opening title sequence on bar napkins while we sat and had lunch and talked about ideas."
Chamberlin saved the notated napkin. He explained the content. A mini, 10-minute "feature film" is interwoven with abstract images that align with the song content. The film progresses as a new scene is shown with each song performed. Chamberlin will add 20 minutes for their 90-minute total set they will play when on the European leg of the tour.
"Billy wanted a cinematic value to the presentation so you feel like you're seeing a full-length feature film," Chamberlin said. "There's a credit sequence we constructed into a 90-second opening called 'Gang of Outlaws', the title of the tour.
"We started programing the content on stage to fit right in the pocket of the concert," said Chamberlin. "There were three days of rehearsal, including technical programming, lighting, sound, prior to their opening, May 25, concert. I toured with the band on a dozen shows after that, continuing to work and improve the content. I'd meet with Billy, the lighting, and video director and would take time to discuss the notes and go from there. Every night we would document the show and take notes of what to change.
"From day one, even before it was polished out, Billy and I knew we were on to something," Chamberlin said. "He said this one one of the best things we've done so far.There is a lot of cool crazy stuff there on those screens."
Darci Carlson
Some of that crazy stuff includes wild west action by West Seattle model and musician, Darci Carlson, who has an alternative rock band the "Dolly Rottens".
Bandmember Geneva Butler, also of West Seattle, makes a cameo, as does West Seattle's Joel Eggert, who has crewed for Chamberlin on other projects. Gibbons was searching for a "voluptuous blonde tattooed girl" and said Carlson was "perfect".
After the opening credits, Carlson walks through the "desert" (filmed near Ellensberg) and makes an announcement, "Hey it's party time! Please welcome the little band from Texas" to the cheers of fans, said Chamberlin, and the band starts playing.
"I'm so excited about it," said Carlson, who also tends bar at Slims Last Chance in Georgetown. "It's been out of this world. I sing, play guitar, and always loved being in the spotlight. I've been dancing since six years old. I was born and raised in White Center and went to Kennedy High School in Burien. They are one of my favorite bands of all times. I remember listening to 'LaGrange' with my dad on the radio when I was a little kid.
"I've known Jamie for four years," she said. "He has started involving me in some of the filming of the local bands he's been working on. We just filmed for the VAN EPS, a Seattle band, at the Feedback Lounge here in West Seattle. I met Billy Gibbons and Dusty Hill last time they came to the Snoqualmie Casino. We hung around West 5, and the Antique Mall, in the Alaska Junction."
Carlson caught Gibbons' eye when he viewed the VAN EPS video, and so he invited her to participate.
"ZZ Top's all about the cars, the broads," said Carlson. "For 'Beer Drinkers and Hell Raisers' we did this really rad scene. We filmed in that Pioneer Square building (The State Hotel) with the sign 'Rooms 75 cents'. We filmed on the roof, with the barbecue going, shaking cans of Tecate, dancing, having fun. I have a '68 cherry red Chevelle and we rolled that thing out in Ellensberg and were driving in the gravel, burning wheels, with fake cap guns pretending to shoot tequila bottles."
VAN EPS new video
You can view the release of the VAN EPS video, "Go Ahead" video directed by Jamie Burton Chamberlin (Black Dahlia Films), track produced by Scotty Olson, at their "Premier Party", this Thursday, July 12, 8:00 p.m. to midnight, at Mona's Bistro & Lounge, 6421 Latona Ave NE, near Green Lake. No cover.