Alki Tours Snowtrain to Leavenworth features Highline musical therapist Nick Heiting
Alki Tours Snowtrain to Leavenworth features Highline musical therapist Nick Heiting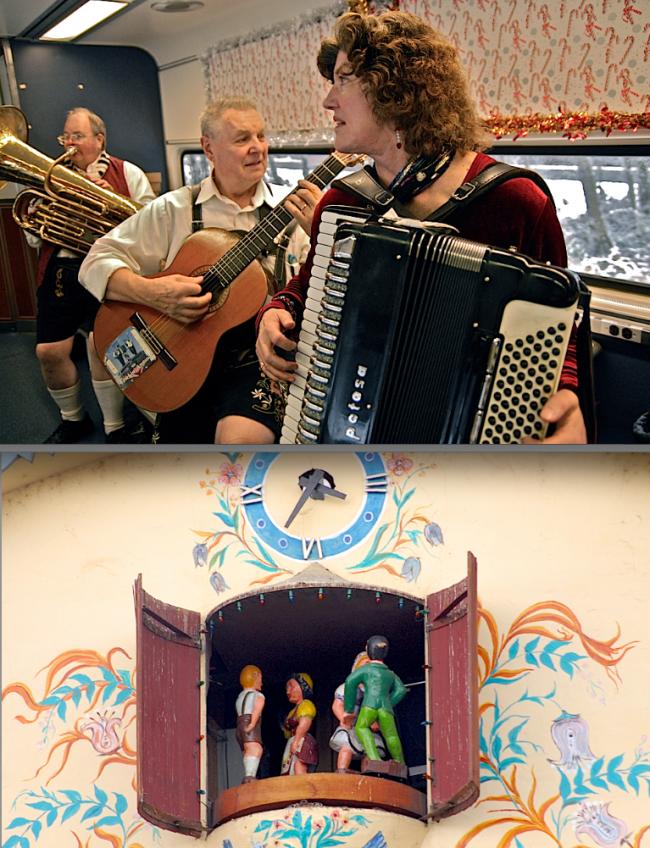 Photos by Steve Shay
Sun, 12/09/2012
While many first-time passengers will ride the rails in the 10 car-plus scenic Alki Tours Snowtrain to Leavenworth from downtown Seattle this holiday, many return every year, including Santa and a collection of entertainers. Magicians, historians, Christmas Carolers, and instrumentalists take turns working the narrow Amtrak aisles, competing for the passengers' attention with the sometimes breathtaking mountainous snowscapes and the clickety-clack of the rails underneath.
One of the veteran entertainers who works for the West Seattle-based tour group is German-born Nick Heiting.
"We immigrated from Germany to Canada, then moved to Burien in 1957," he said. He spent his senior year at Highline High School and his father got a job here at Boeing. An electronic wiz, he worked on their 707's.

Said Heiting, "I practice musical therapy at the Riverton Hospital on Military Road in their general psych for 15 years, and have done the Leavenworth tour for 17 years."
His traditional European and Christmas tunes did seem to sooth the souls of the thousand or more passengers on last Saturday's five and a half hour train ride to the idyllic German style village.
Heiting is pictured center. The bandleader is Bonnie Birch, right, who played Carnegie Hall at a young age, and Paul Osler, far left, is a former musician for the Navy.
Alki Tours website: http://www.alkitours.com/
Musicians' website: http://www.bonniebirch.com/