Jerry's View: Understanding the nature of giving
Jerry's View: Understanding the nature of giving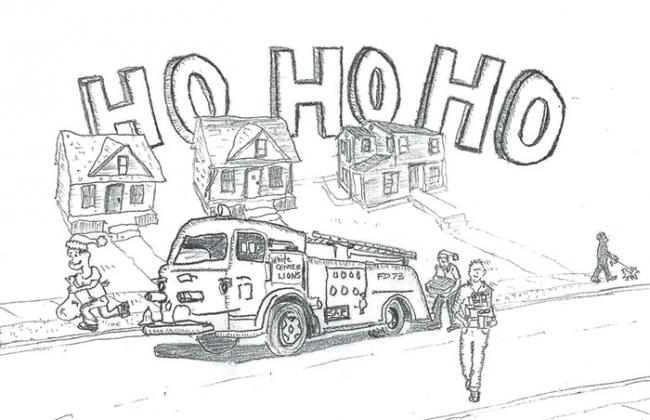 Cartoon by Scott Anthony
Fri, 12/14/2012
When I was a boy in Portland, Oregon, sometimes we got to go
downtown at Christmas time where the Elks had rented the Hippodrome
building and put on a big show for poor kids.
When it was over we lined up and each got a net stocking full of
candy, a big orange and some kind of windup toy or a top you wound
with a string and then threw it and it would spin. Wow!, It is a
memory that has stayed with me and helped me understand the less
fortunate.
Fast forward: The halcyon days of the mid-fifties at holiday time was
very special. We had five little rascals and not much time or money.
But we were healthy and had more than others. Specifically more than
some of the less fortunate families living in the tossed-together King
County Housing project developed at the end of WWII near White Center.
The county needed room for the returning war vets and their growing
families.
White Center was a blue collar town. White Center Heights sprouted up
as affordable for those families. So did more housing along 4th SW and
106th. The county had to remove a golf course near Lake Hicks to put
the slap-dash wood buildings up in a hurry. We called it the
"projects" for lack of a better term.

The White Center Lion's Club saw the need, as they have traditionally
for many decades. Member solicited local businesses for donations of
food, clothing, candy and toys.Floyd Wallen at Olberg's drug gave me
a great bundle of toys he had down in his store basement. Everything
was then assembled in the basement of the Epicure Restaurant and
eventually loaded on a county Fire Truck. I asked my two available
sons to tag along for the education it would bring. We weren't rich
but we were able and we cared. Our insurance man, Fred Metzler,
dressed up as Santa. His ample belly was perfect for the suit. He
smiled through the fake beard and heavy white eyebrows beneath his red
and white cap. Ho,Ho, Ho! Fred yelled as the truck wove through the
community. The kids and adults would jump off the truck with their
sacks of goodies designated for especially needy families who often
did not even have a holiday tree. It was my goal to let my own
children understand the nature of giving. I hauled a few bags too.
My kids may have been more excited about riding on the back of a Fire
Engine, hanging by one arm as they tossed caution to the wind, albeit
at 10 mph.
With gleaming smiles they too hopped from house to house with joy. One
son said recently that the sojourn in the the projects to hand out
those gifts was burned into his brain as an elemental Robinson family
value. It was a powerful, permanent impression of Christian action. It
colored his world as he became aware that he/we did not live that far
above those who received the gifts.