SLIDEDHOW: Sports Roundup 9-30-13
SLIDEDHOW: Sports Roundup 9-30-13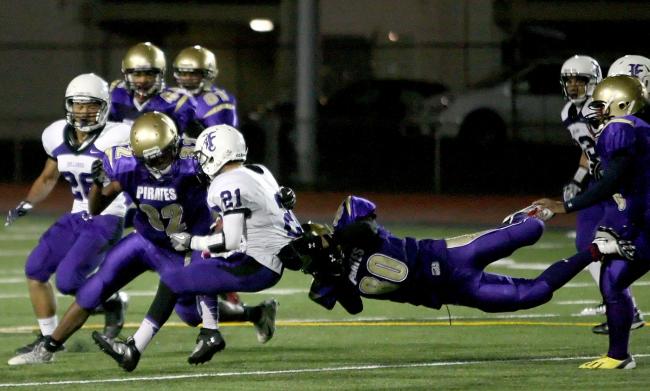 Photos by Kurt Howard
Mon, 09/30/2013
Monday, Sept. 23
Volleyball
Bonney Lake 3, Mt. Rainier 2
The Rams were edged in a non-league match last Monday.
Bellevue Chr. 3 , SCS 1
Seattle Christian came up short in Monday's match.
Tuesday, Sept. 24
Volleyball
Kennedy 3, Evergreen 0
The Lancers waltzed past the Wolverines in last Tuesday's action.
Lindbergh 3, Tyee 0
Tyee was topped by Lindbergh on Tuesday.
Federal Way 3, Mt. Rainier 0
Mount Rainier fell to Federal Way last Tuesday.
Girls soccer
Foster 5, Tyee 2
Foster was the winner in a high-scoring match Tuesday.
Renton 9, Evergreen 0
The Wolverines were routed by Renton last Tuesday.
Hazen 6, Highline 1
Highline was hammered by Hazen last Tuesday.
SCS 5, Cascade Chr. 0
Seattle Christian clobbered Cascade Christian in Tuesday action.
Tahoma 5, Mt. Rainier 0
The Rams were routed by the Bears last Tuesday.
Wednesday, Sept. 25
Volleyball
SCS 3, Vashon 0
Seattle Christian shut out Vashon Island this past Wednesday.

Thursday, Sept. 26
Girls soccer
M. Rainier 8, Kent-Meridian 0
The Rams gave Kent-Meridian a royal beating on Thursday.
Lindbergh 5, Tyee 0
The Totems took a loss to Lindbergh last Thursday.
Volleyball
Kentwood 3, Mt. Rainier 0
Kentwood dealt Mount Rainier a South Puget Sound League North Division loss last Thursday.
Kennedy 3, Tyee 0
The Lancers topped the Totems on Thursday.
Friday, Sept. 27
Girls soccer
SCS 4, Vashon Island 2
The Warriors were two-goal winners over Vashon Island this past Friday.
Football
Foster 15, Highline 13
A first quarter safety proved to be the difference as the Bulldogs defeated the Pirates on Friday.
Victorious Foster also goet a 3-yard touchdown run from Alvin Noa and a 12-yard touchdown pass from Randy Tippins to Patrick Straight.
Highline scored seven points in the first quarter and six in the second for a 13-9 halftime lead.
Kentridge 22, Mt. Rainier 0
Mount Rainier was shut out by the Chargers in a close game this past Friday.
Saturday, Sept. 28
Kennedy 34, Evergreen 6
Colin Cossette scored three touchdowns and Luiz Diaz two to lead the Lancers past the Wolverines on Saturday night at Highline Memorial.
Cossette scored on two runs of three yards and one run of one yard. Diaz struck on a 50-yard run and an 11-yard run.
Marco Calderon made four of five PAT kick attempts for the Lancers.
Evergreen scored its touchdown in the fourth quarter and missed a run attempt for two extra points.