Jerry's View: Sledding can be hazardous to your health
Jerry's View: Sledding can be hazardous to your health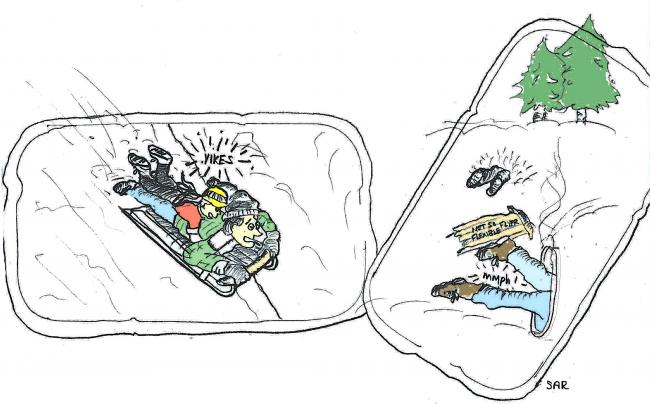 Tue, 11/19/2013
Cold winters seemed to be more common in the 50's, where we raised our kids in McMicken Heights. Icy mornings never kept me from hunting Geese near the shallow depression of Bow Lake behind the SeaTac Office Towers on Hiway 99. I recall ice skating on Arbor Lake just east of 1st S. and 122nd St. As an avid sportsman I could hold my own.... except when it came to sledding.
Just up the hill on 172nd street and east to 32nd Avenue S. the hill runs down steeply to Military Road near the old Lewis & Clark Theaters. The chance to take the kids sledding on this perfect incline only required some good sledding snow. We got it in bunches so we waxed up the runners on the Flexible Flyer and headed for the slippery slopes of 32nd Ave S.
As a kid we had snow sleds...or at least we knew kids who did. There were also toboggans. The sleds and toboggans were not all that "steerable", often bumping into people, parked cars or old tree stumps. The Flexible Flyer was advertised as just that... steerable.
It had been close to 30 years since my sledding days in N.E. Portland. Never doubting my ability I hopped on, inviting my good friend's daughter to piggy-back for a fun ride down the hill. Tonya was a wee girl of 8. I hardly noticed her clinging to my collar with her legs tucked near the sides of the sled. My own legs trailed helplessly off the back since the sled was designed for children, not adults.

Racing hell bent for the bottom, my own kids trailed me down the slope. Somewhere, about half-way down, I lost control. We veered sharply left, careening through some light brush before descending briskly down into a cement culvert about 3 ft wide. Tonya flew completely over my neck, landing upside down in a pile of soft snow. The sled and I did a nose dive down into the corner of the culvert where I caught the edge with my right side--full force. Good neighbors from the by-standing crowd pulled me out of the ditch, hauled my helpless body into a nearby home and laid me to rest on a couch to examine me for injuries.
It was determined that I needed greater medical attention than could be provided there so I was whisked away to West Seattle General Hospital (long since gone from the corner of Alaska St and California Avenue). The injury?....a bruised Spleen requiring a three day stay. I cannot recall why they would take me all the way across town from McMicken Heights to West Seattle but they did. Tonya did not have a scratch. Number three son said he saw me put my left foot down instead of my right foot when I was attempting to steer the Flexible Flyer back to the middle of the street. I goofed, pulling the sled further left into the ditch. It was the end of my sledding days but not nearly my adventures. I've told you about falling into the pit at the south park transfer station, landing on a pile of fresh cut grass and leaves. I told you about the passing car that ripped off my driver's side door when I parked in front of Seattle Trust & Savings Bank in Burien. I opened the door without looking. The door ended up four cars down the street. You may recall that I cut my forehead open on an exposed water pipe along a trail, later claiming to my immediate family that I had been in a fight with a bear while fishing. I once waded too deep in my chest waders allowing the Green river to rush down to my toes while carrying me downstream where I luckily caught an overhanging branch I used to pull myself to safety.
If this suggests that I am lucky, you would be right. I've lived a very lucky life so far and not because I sat on the sidelines. I participated in the activities of life and have a pretty good track record. I hope you have been as fortunate.